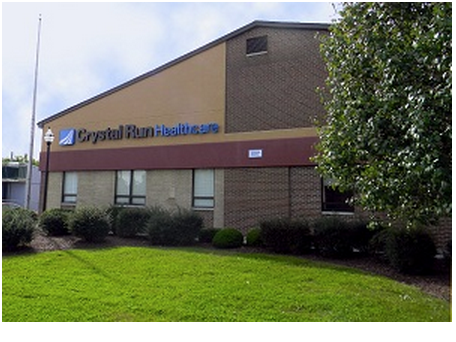 FOR IMMEDIATE RELEASE
For more information, contact: Mark Trocino | 845.615.6832 | mailto:marketing@crystalrunhealthcare.com
Monroe, N.Y. – May 20, 2013 – Crystal Run Healthcare is pleased to announce starting June 1st, their Monroe Urgent Care located at 807 Route 17M in Monroe will be open 7 days a week and 365 days a year including all holidays. Crystal Run first opened this Urgent Care location last August offering residents in Monroe and the surrounding communities the ease and convenience of extended hour medical care for walk-in patients. Crystal Run Urgent Care is staffed with Emergency Medicine and Family Medicine physicians as well as certified physician assistants and treats everything from aches, pains and cuts to bruises, bumps, colds and headaches. Urgent Care in Monroe is open Monday-Friday from 8am-8pm and effective Saturday June 1st, the Monroe Urgent Care will also be open on Saturdays and Sundays from 9am-5:30pm to serve patients non-emergent medical needs without the need of an appointment. Patients can reach Crystal Run's Monroe Urgent Care by phone at 845.783.6333.
Crystal Run also operates Urgent Cares in Middletown and Rock Hill that are distinguished as the region's only Urgent Care Centers certified by both the Urgent Care Association of America and accredited by the Joint Commission. Crystal Run's Monroe Urgent Care is currently in the process of attaining these same certifications and accreditations. Crystal Run Urgent Care provides patients with walk-in, extended-hour medical attention with licensed providers for a large scope of medical conditions.
"We are excited to now offer weekend hours at our Urgent Care here in Monroe. Being open 7 days a week affords our patients easier, and more convenient access to high-quality health care for their non-emergent medical needs. We are fully committed to serving the needs of our patients and this is yet another way we are showing our commitment to the community of Monroe," said Mary Cable, ANP, MS-RN, CS, Urgent Care Administrator at Crystal Run Healthcare.
--- Cutline: Crystal Run Urgent Care Monroe, located at 807 Route 17M in Monroe.
About Crystal Run Healthcare: Crystal Run Healthcare is a premier multi-specialty group practice, and is among the fastest growing medical practices in the country. Crystal Run Healthcare includes over 300 providers, in over 40 medical specialties with 14 practice locations focusing on the healthcare needs of the mid-Hudson Valley and lower Catskill region. Crystal Run has a strong commitment to primary care, employing an outstanding group of physicians representing the specialties of Internal Medicine, Obstetrics/Gynecology, Family Practice, Geriatrics and Pediatrics. The practice also includes unsurpassed sub-specialists in a wide variety of medical and surgical specialties and sub-specialties. Crystal Run Healthcare offers fully accredited digital radiology and laboratory services and is a national leader in the use and advancement of electronic health records (EHR). Crystal Run Healthcare is accredited by The Joint Commission and is designated by the NCQA as a Level 3 Patient Centered-Medical Home. The practice was among the first 27 health care organizations in the nation to participate as an Accountable Care Organization (ACO) in the Medicare Shared Savings Program (MSSP) effective April 2012. NCQA recognition of Crystal Run as an Early Adopter seeking ACO Accreditation in January 2012 culminated in December 2012 with Crystal Run Healthcare achieving NCQA Level 2 ACO Accreditation. For more information about Crystal Run Healthcare visit our website at www.crystalrunhealthcare.com or call 845.615.6832.