You are here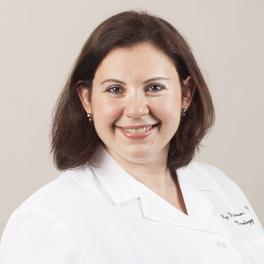 Olga Fishman MD
Specialties: Neurology
Board Certified: Neurology, Clinical Neurophysiology
Languages: English, Russian
Overall Rating of Provider
---
General Info
Medical School/Degree: MD, SUNY Downstate Medical School, Brooklyn, NY
Hospital Affiliations: St. Anthony Community Hospital and Montefiore St. Luke's Cornwall
Prior Experience: Montefiore Medical Center, Bronx, NY
Residency: Neurology, Long Island Jewish Medical Center, New Hyde Park, NY
Internship: Internal Medicine, Long Island Jewish Medical Center, New Hyde Park, NY
Fellowship: Neurophysiology, Montefiore Medical Center, Bronx, NY
Undergraduate: Barnard College, New York, NY
Clinical Interests:
Epilepsy
Year Joined: 2010
---
About Me
What made you want to become a health care provider or what is your earliest memory of wanting to be one?
I was a naturally curious child. Learning about the workings of a human body afforded an endless way of indulging my curiosity that lasted well into adulthood.
What do you love most about your specialty? / Why did you choose your specialty?
I love the human aspect of my job. Patient stories make my job fun, but by the same virtue this is the same thing that makes my specialty very hard, especially when the stories are of pain and suffering.
How do you connect with your patients?
I smile.
What are your interests outside of the office (hobbies, activities)?
I knit.
What is your advice for your patients?
Use your common sense and have a list of all your medications on your person at all times--even if you are unconscious, we can usually piece together your medical history by your medications.
---