You are here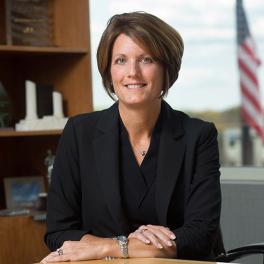 Michelle A. Koury MD
Position: Chief Operating Officer
Dr. Michelle A. Koury is the Chief Operating Officer at Crystal Run Healthcare. Dr. Koury is a cum laude graduate of Rutgers University and attended medical school at Tufts University School of Medicine. She completed her residency in Internal Medicine at New England Medical Center-Tufts University School of Medicine, Boston, MA. A board certified Internist, Dr. Koury joined Crystal Run Healthcare in 1996, after which she earned her certification as a medical director for long-term care – one of only two in Orange County at the time. Dr. Koury was appointed as Crystal Run Healthcare's first Medical Director in 2002 and served in that role for six years, until being appointed Chief Operating Officer in 2008.
In 2009, Dr. Koury co-wrote an article on Joint Commission Accreditation, which was selected for publication in the June 2009 issue of the American Medical Group Association's (AMGA) Group Practice Journal. She has presented at the annual conferences of AMGA and the Medical Group Management Association (MGMA), as well as the Practice Management Conference of the NJ MGMA – all of which feature top-notch presenters from America's leading healthcare organizations – and has been an active member in both AMGA and MGMA. She is a Past Chair of the AMGA COO/CAO council, past BOD for the Orange County Chamber of Commerce, and on the Board of Directors for the AMGA, New York State Health Foundation (NYSHealth), the Community Foundation of Orange and Sullivan, and Walden Savings Bank.
Dr. Koury has served as the Corporate Hero for the Hudson Valley Arthritis Walk and participated in a "Powerful Women Roundtable" discussion at The College of New Rochelle. In 2012, Dr. Koury was honored by the SUNY Sullivan Foundation as a "Woman Who Makes a Difference" in healthcare for Sullivan County. In 2015, Dr. Koury was honored by the Girls Scouts Heart of the Hudson and the YWCA Orange County with the "Tribute to Women of Achievement of Orange County" Award, which who have made significant contributions to their professions, organizations, and community.
Dr. Koury is married to Craig Calzaretta and they reside in Goshen with their children, Jack and Maggie. In her free time, Dr. Koury enjoys running and staying fit, as well as reading and spending time with her family.