You are here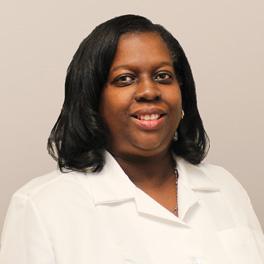 ---
General Info
Medical School/Degree: University of Pittsburgh School of Medicine
Residency: Internal Medicine, Montefiore Medical Center
Fellowship: Pulmonary/Critical Care, New York Presbyterian Hospital/Weill Cornell Medical Center
Undergraduate: University of Pennsylvania
Clinical Interests:
Interstitial Lung Disease, Pulmonary HTN, Pulmonary Rehabilitation, Sickle Cell Disease
Year Joined: 2018
---
About Me
What made you want to become a health care provider or what is your earliest memory of wanting to be one?
My mother was a nurse so I was always interested in healthcare. When a family member became ill with a pulmonary condition, my interest in pulmonary and critical care medicine peaked. I wanted to learn more in order to aide my family member and other patients with similar ailments.
What do you love most about your specialty? / Why did you choose your specialty?
I enjoy helping the sickest and most critically ill patient and seeing the patient improve, at times from the brink of death. There is great satisfaction in aiding the healing process even when there is not a successful outcome. This specialty is also challenging and I am constantly learning new data, technology, and treatment strategies.
How do you connect with your patients?
I consider my patients as an extension of my family. We not only discuss their health issues, but their family concerns as well. We discuss all aspects of their lives in addition to their health, which fosters an atmosphere of trust and mutual respect.
What are your interests outside of the office (hobbies, activities)?
I love spending time with my family, especially my son. I enjoy reading and listening to music. I am an active participant in my church and participate in medical missions.
What is your advice for your patients?
Take care of yourself first and foremost. You will not be helpful to anyone if you are not healthy and are not addressing your own health needs.
---