You are here
West Nyack – Now Open

About our West Nyack Facility
Our newest multi-specialty building, now open in West Nyack, is a 70,000 sq. foot, two story, innovatively designed medical facility, housing:
Primary Care


Internal Medicine
Family Practice
Geriatrics
Pediatrics

Cardiology


Electrophysiology
Interventional Cardiology

Dermatology
Endocrinology
Gastroenterology
Hematology & Oncology
Infusion Center
Maternal Fetal Medicine
Neurology
Nephrology
Obstetrics & Gynecology
Physical Medicine & Rehabilitation
Podiatry
Behavioral Health
Pulmonary & Critical Care Medicine
Rheumatology
Urgent Care
Urology
Full Diagnostic Testing Services, including: MRI, CT, X-Ray, Ultrasound, Echocardiography, Nuclear Cardiology, Vascular Ultrasound
Women's Imaging, including: Mammography (3D Imaging), Ultrasound, Bone Density, Stereotactic Breast Biopsy, Ultrasound Breast Biopsy, MRI Breast Biopsy
The innovative design of our West Nyack building was adapted from our Newburgh medical facility, which was modeled after The Everett Clinic at Smokey Point, a large multi-specialty group north of Seattle, WA, using LEAN principles to promote patient safety, functionality, efficiency and service excellence.
Rockland County Location Closings:
Please be advised that as of Friday, July 29th, certain Rockland County locations closed, due to the opening of our new West Nyack facility on August 1st. If you would like to make an appointment with a provider, please note that it will be at our new West Nyack location, located at 2 Centerock Road. The following locations are now closed:
Pearl River – 275 North Middletown Road, Pearl River, NY
Pomona - 26 Firemens Memorial Drive, Suite 120, Pomona, NY
West Nyack – 2 Medical Park Drive, Suite 5, West Nyack, NY
To schedule an appointment, please call: 845.348.1100.
Rockland Provider Spotlight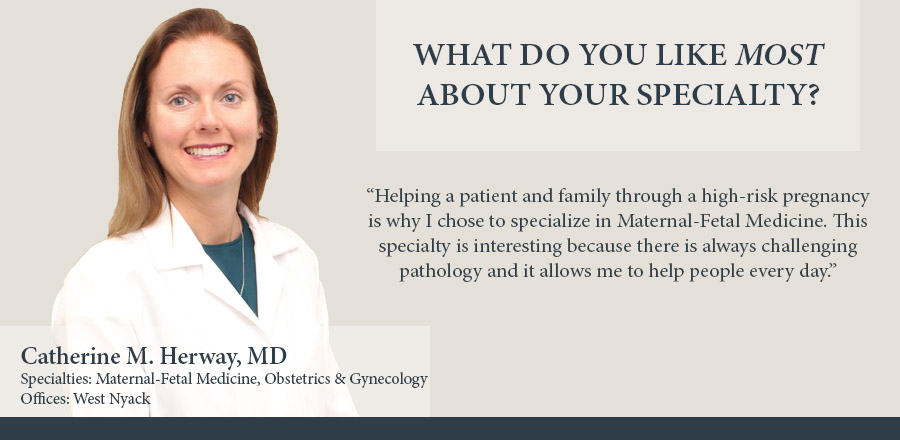 We're featuring our Maternal-Fetal Medicine Specialist, Dr. Catherine M. Herway, in today's Rockland Provider Spotlight. To learn more about Dr. Herway, our high-risk pregnancy specialist, as well as to book an appointment with her, please visit: Dr. Herway.
Transforming the Health of Rockland County
Rockland County Locations & Specialties
With 6 locations located throughout Rockland County and an innovative new medical facility now open in West Nyack, Crystal Run Healthcare is transforming the health of Rockland County. Our offices, located in Suffern and West Nyack, among others, are home to 15 different specialties from Cardiology and Endocrinology, to Family Practice and Obstetrics & Gynecology, and more.
For a complete list of providers in Rockland County, please click here.