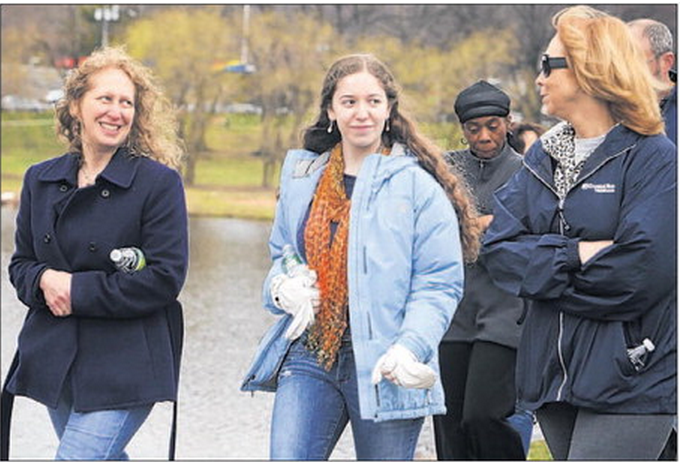 BY BETH KALET
For the Times Herald-Record
More personal than a call-in show or checking the Internet, Walk With a Doc is a free program that lets people ask doctors questions or just chat as they walk alongside them. The monthly program alternates between sites in Goshen and Monroe.
It was a brisk spring morning, much colder than the 20 or so folks who'd gathered at Crane Park in Monroe would have liked. But the 9 a.m. Saturday meeting was all about getting the blood flowing, getting moving and a little healthy talk.
This was the monthly gathering of Walk With a Doc, a program sponsored by Crystal Run Healthcare but open to anyone. The setup is simple: Meet, hear a brief talk on a health topic by one of the doctors, then get walking. Walkers go at their own pace, participating for as much as they like, but they're encouraged to stick it out for a full 45 minutes or about three miles. While they're at it, they are welcome to sidle up to any of the physicians and have a personal discussion. No fee.
The 'spirit' of the program
At the April walk, the first outdoor walk of the season, five doctors from Crystal Run turned out, along with some staffers and family members, some clients and some who'd read about the program. Notices appear in the newspaper and are posted at doctors' offices, and there's even a Facebook page. Like it and receive updates.
The walks alternate between Salesian Park in Goshen and Crane Park in Monroe – that's the one off Route 17M that's often called Airplane Park. In colder months, the walk is held indoors at the Galleria at Crystal Run in the Town of Wallkill.
Dr. Jonathan Nasser, a Crystal Run physician, spearheaded the program locally. He had heard of this national nonprofit effort and thought it would be perfect for this region. "We're sort of the Middletown chapter," he said.
"The spirit of the program is to promote exercise and taking care of our bodies and being mindful of our health," Nasser said. And he stressed that those who come out for the walks are all types: Some are active walkers, others take it slowly.
"Ideally what I'd love to see happen is that people come back. We want to see people be healthy and exercising," said Nasser.
More fun than chore
For many, it's the group effort that makes this walk more of a fun event than an exercise chore. "I love that we get all our steps in before 11 in the morning," said Diane Rowe, who had come with her husband, Stephen, one of the Crystal Run doctors.
Patti Ryan of Salisbury Mills said her neighbor Kathy Kelly had encouraged her to come out for the walk, and as the sun grew stronger, the pair were feeling happy to have done so. Kelly's commuting buddy Annette Lee of Central Valley came for the walk. She and her husband, Francis Lee, had driven to the park a little earlier; they did a lap even before the program began.
"To me the most wonderful thing about the walks are the doctors. You can walk with any doctor you want and ask any questions you want," Kelly said.
This particular walk drew five Crystal Run doctors: Sally Levine, ob/gyn; Philip D. Wilken, internal medicine and pediatrics; Steven J. Rowe, urology; Syed Z.A. Jafri, cardiology; and Michaelle Antoine, pediatrics.
'It's a lovely concept'
Before the walkers set out, Wilken gave a brief talk about vitamin D, bone health and calcium. Past pre-walk talks have focused on kidney stones, healthy eating and Lyme disease, according to Nasser.
Florence Ramos and her daughter Brooklynn of Warwick attended this walk. It was Ramos' second time joining the walkers. She does mammography at Crystal Run's Warwick location, working with Levine.
Brooklynn, a high school student, is on a path to becoming a physician's assistant.
While most who walked say they have busy schedules, they agreed that grabbing time to exercise together makes a big difference in their lives.
"It's a lovely concept," said Levine. "I wish more of my patients would come. It's so good for you."
---
Photo: FAYE MURMAN/ For the Times Herald-Record Dr. Sally Levine, left, of Monroe, walks through Crane Park in Monroe with her daughter Rina Schulberg, 16, and Eileen Hogan, of New Hampton, during 'Walk With a Doc,' a free program held once a month that gives people a chance to informally chat with health care professionals.