You are here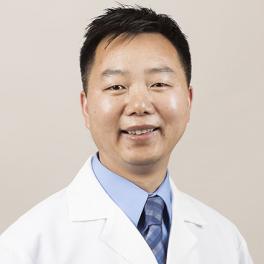 Jinlin Du MD FAAAAI, FACAAI
Specialties: Allergy & Immunology
Board Certified: Pediatrics, Allergy & Immunology
Languages: English
Overall Rating of Provider
---
General Info
Medical School/Degree: Hubei Medical University
Hospital Affiliations: Garnet Health Medical Center (ORMC)
Residency: Pediatrics, Marshall University School of Medicine, Huntington, WV
Internship: Pediatrics, Marshall University School of Medicine, Huntington, WV
Fellowship: Allergy & Immunology, University of Medicine & Dentistry of New Jersey, Newark, NJ
Clinical Interests:
Allergies and Allergy Mimic Disorders, Asthma, Food and Drug Allergies and Immunodeficiencies
Year Joined: 2004
---
About Me
What made you want to become a health care provider or what is your earliest memory of wanting to be one?
I never thought that I would consider a medical career since every time I visited my uncle and aunt's clinic in my childhood, I hated the smell from the medicine cabinet and exam rooms until the last year of my high school. I developed a sleep problem (insomnia) and went to see a doctor who barely looked at me and handed me a prescription. I tried to ask him a few questions, he got upset and stated, "If you don't take this medicine, you might die". Of course, the only thing I remembered from the visit was "you might die" which made my insomnia 10 times worse until I saw another physician. It was then I realized how important a doctor's role is in people's lives, and it was then I promised myself to be a doctor, a good doctor who listens, cares and truly loves to help people.
What do you love most about your specialty? / Why did you choose your specialty?
What I love most about my specialty is its large age span of patients, a great array of diseases, and the complexity of treatment interventions, not to mention a dynamic and much-in-demand field with a flexible lifestyle. I fell in love with this specialty since I picked up the immunology textbook in my 2nd year in medical school. Working as a Fogarty Fellow at the National Institute of Allergy and Infectious Diseases further expanded my interest in this field. Suffering from allergies myself and my family members as well, made it clear to me to pursue such a career.
How do you connect with your patients?
I engage my patients with empathy, heart and compassion. Spend as much time as I can with them, listen to them and understand them. Foster a mutual trust and respect with my patients.
What are your interests outside of the office (hobbies, activities)?
Soccer is in my blood. Breaking a tooth and tearing a muscle still does not stop me from playing the game. I grew up loving Ping-Pong and badminton too. Although golf was acquired later in life, thanks to Tiger Woods, I love learning this new game.
What is your advice for your patients?
If you feel that you have a health problem, please do not try to make a diagnosis by yourself, your significant others or your online advisory. Before you keep abusing OTC medications, try to find professional help as soon as you can.
---