You are here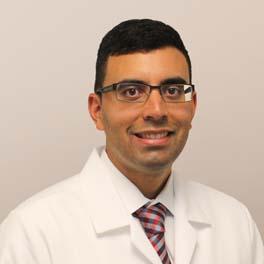 ---
General Info
Medical School/Degree: MD, Albert Einstein College of Medicine, Bronx, NY
Residency: Internal Medicine, Zucker School of Medicine at Hofstra/Northwell Program, Hempstead, NY
Undergraduate: BS, Biology, Stony Brook University, Stony Brook, NY
Clinical Interests:
Preventative and obesity medicine
Year Joined: 2021
---
About Me
What made you want to become a health care provider or what is your earliest memory of wanting to be one?
My earliest memory of wanting to become a doctor was at age 12. Even at a very young age, I was drawn to the sciences and had a fascination with understanding the complexities of the human body. During medical school, I became very interested in preventative medicine as I experienced first hand how lifestyle choices and access to adequate medical care were key factors in determining both health span and lifespan. The prospect of continuity of care with my patient's was also a key factor in my decision to enter the field.
What do you love most about your specialty? / Why did you choose your specialty?
What I love most about the field of Internal Medicine is the broad scope of practice and the patient diversity. You get to treat patients of all ages, backgrounds, and medical complexities. An internist is akin to a detective in that you have to investigate why a person has a certain ailment and then try to solve the problem by using a combination of tools at your disposal. You also have the unique opportunity of preventing disease in the field of Primary Care which in the long run is better for the patient and for society.
How do you connect with your patients?
I like sharing my own personal experiences in order to connect with my patients. The days of paternalistic medicine are long gone and so I believe that the patient should be at the center of every encounter. Listening to my patient's stories allows me to better understand how they perceive the world and this in turn allows me to tailor and fine tune my medical decision making to their specific needs. Furthermore, holding my patient's accountable and patients holding me accountable is also a form of strong connection.
What are your interests outside of the office (hobbies, activities)?
I enjoy lifting weights at the gym, going on long hikes, running, and just being outdoors. I am also a sports fanatic (huge Knicks and Real Madrid fan) and enjoy listening to all kinds of music (especially Jazz and Latin Jazz). I also enjoy listening to podcasts on all topics including medicine, history, finance, and personal development.
What is your advice for your patients?
You are your own best advocate in terms of your health. Being aware of your health is the most powerful tool and I would like to be your facilitator in that journey. Any form of exercise is great, stick to a diet that is free of processed foods, try to get 7-9 hours of sleep each night, and establish strong support systems.
---