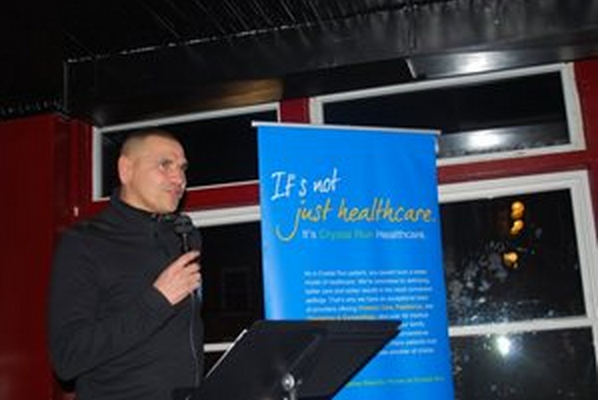 FOR IMMEDIATE RELEASE
For more information contact:
Frank Giannino
845.692.9225 or email: race@classic10k.com
www.classic10k.com
Beam Team Training Runs Set to Begin 12th Season on Sunday, April 6, 2014
The Classic 10k Road Race Weekend, Saturday, May 31 – Sunday, June 1, 2014
Middletown High School
Middletown, NY – March 19, 2014 - 2014 marks the 12th year since local racing star and Classic 10K Race Director, Wayne Beam, started his weekly training runs back in 2002. On Sunday, April 6th, the Beam Team will once again begin their annual training runs through the streets of Middletown in preparation of the 2014 Classic 10K Road Race.
Over the years, Beam has worked with scores of runners of all levels of training and fitness from seasoned runners, to those just starting out. "Some years we've had 80-90 people in our group, and others we've had 40," said Beam. In 2013, Beam's weekend runs were averaging 40+ people and he saw a lot of new faces interested in taking up running. "For new runners just starting out, it's not about the time or the distance, it's about building confidence and getting them through to race day."
The Beam Team meets at 9AM Sunday mornings at the Middletown High School. The group is open to anyone interested in training for the Classic 10K or Rowley 5K Walk and Run. Refreshments will be served.
The 2014 Classic 10K Road Race Weekend presented by Crystal Run Healthcare, will take place Saturday May 31st and Sunday, June 1st. Middletown's Olympic Marathon Gold and Silver Medal Winner, Frank Shorter who once called Middletown home originally inspired The Classic – which today attracts more than 1,200 elite and local runners alike. The race continues to build each year, and for many runners, the encouragement from Shorter sending them off at the starting line followed by a welcomed applause at the finish line has become a staple of running this race. The weekend includes The Classic 10K, a 6.2 mile race through the streets of Middletown, The Rowley 5K Run and Walk (3.1 miles), the Junior Classic races for kids (offered free of charge for all children), the Community Health Expo, Awards Ceremony and Post-Race Party. All activities are centered at Middletown High School's Faller Field.
For online registration, downloadable applications and for more information on special teams, race maps, team challenges, a schedule of events, videos, registration and sponsorship, visit www.classic10k.com.
Cutline: Wayne Beam accepts a special recognition award at the recent Classic 10K Community Recognition Celebration in February 2014.
About: The Classic 10K Road Race, Inc. is an all-volunteer 501(c)3 organization and is committed to putting on a good race, encouraging citizens of the community to live and give healthily, and providing visibility to our partners. Please send any donations payable to Classic 10K Road Race, Inc. to: PO Box 4050, Middletown, New York 10941.