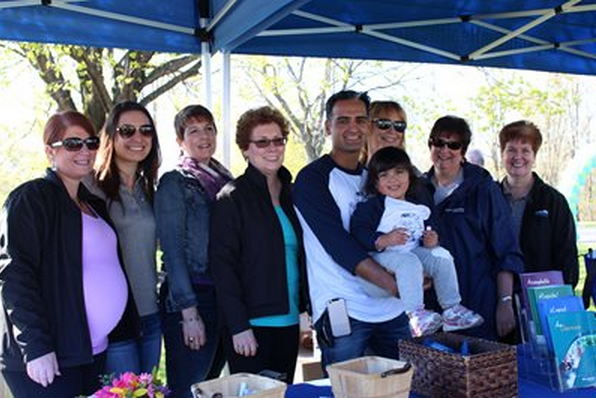 For more information, contact: Mark Trocino | 845.615.6832 | mailto:marketing@crystalrunhealthcare.com
CRYSTAL RUN HEALTHCARE AND ITS EMPLOYEES RAISE OVER $15,000 FOR HUDSON VALLEY WALK TO CURE ARTHRITIS
Middletown, N.Y. – June 23, 2015 – Physicians and staff of Crystal Run Healthcare came together to fundraise for the 2015 Hudson Valley Walk to Cure Arthritis held on May 2nd at Thomas Bull Memorial Park. Eleven employee teams raised a total of $10,359 in donations to benefit the Walk. Including Crystal Run Healthcare's corporate sponsorship, a grand total of $15,359 was donated to the New York Chapter of the Arthritis Foundation, benefactor of the Walk to Cure Arthritis. The Funds raised support the Arthritis Foundation's mission and their focus on three main areas including medical research, community education programs, and patient advocacy initiatives.
Crystal Run's top fund raising team was captained by 2015 Medical Honoree, Dr. Samir Sodha whose team raised over $6500. Dr. Samir Sodha is a Crystal Run Healthcare Orthopedic Hand Surgeon specializing in the treatment of advanced deformities and traumatic injury as well as chronic and arthritic conditions of the hands and upper extremities. He served as the 2015 Medical Honoree for the Walk to Cure Arthritis. "I am truly honored to have served as the Medical Honoree for this year's Hudson Valley Walk to Cure Arthritis. As an Orthopedic Hand surgeon, I see and treat many patients who suffer from arthritis so it has been my pleasure to work closely with the Arthritis Foundation to increase public awareness, educate our local community and advocate for arthritis research," said Dr. Sodha.
Crystal Run Healthcare has been a corporate sponsor of the Hudson Valley Arthritis walk since 2006. Each year, in addition to Crystal Run's corporate donation, employees from Crystal Run Healthcare form teams to raise awareness and funds to help fund vital research to find a cure for arthritis, the nation's most common cause of disability.
About Crystal Run Healthcare: Crystal Run Healthcare is a premier multispecialty group practice with over 300 providers in over 40 medical specialties and more than 30 practice locations in the Hudson Valley and lower Catskill region. Crystal Run has a strong commitment to primary care, employing an outstanding group of physicians in the specialties of Internal Medicine, Obstetrics/Gynecology, Family Practice, Geriatrics and Pediatrics. The practice also includes unsurpassed sub-specialists in a wide variety of medical and surgical specialties and sub-specialties. In addition to accreditation by The Joint Commission, Crystal Run is designated by the National Committee for Quality Assurance (NCQA) as a Level 3 Patient Centered-Medical Home. The practice is among the first 27 health care organizations in the nation to participate as an Accountable Care Organization (ACO) in the Medicare Shared Savings Program (MSSP). Crystal Run Healthcare achieved NCQA Level 2 ACO Accreditation in 2012, becoming the first health care organization to be so designated in New York State and among the first six in the United States. Leveraging its ACO experience, Crystal Run has entered into value-based care/shared savings arrangements with numerous commercial payers and a Medicaid Managed Care organization. As a result, contracts which reward Crystal Run for health outcomes now cover approximately 50 percent of the group's attributed primary care patients. Crystal Run has demonstrated its ability to manage population health, improving quality while simultaneously lowering per capita cost for the patients it serves. Crystal Run Healthcare and Mount Sinai Health System have recently announced the established the Mount Sinai-Crystal Run Alliance for Healthcare Transformation, a groundbreaking partnership in which the participants will share and implement best practices, invest and share financial and intellectual resources, strengthen provider networks, and employ innovative approaches to the creation of health care value—all in furtherance of the "Triple Aim" of Better Care, Better Health, and Lower Cost. For more information about Crystal Run Healthcare visit www.crystalrunhealthcare.com, and follow us on Twitter, LinkedIn and Facebook or call 845.703.6999.