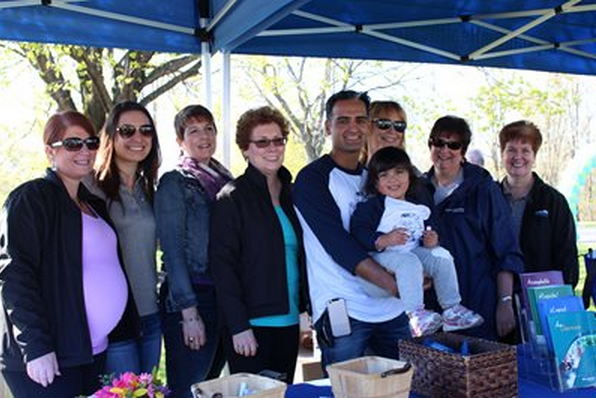 FOR IMMEDIATE RELEASE
For more information, contact: Mark Trocino | 845.615.6832 | mailto:marketing@crystalrunhealthcare.com
Middletown, N.Y. – May 21, 2013 – Employees of Crystal Run Healthcare teamed up to raise money and awareness for the Hudson Valley Arthritis Walk held on Saturday, May 4th. Ten different employee teams from Crystal Run Healthcare combined to raise $10,910 in donations for the walk. Including Crystal Run Healthcare's corporate sponsorship, a grand total of $15,910 was donated to the Arthritis Foundation, benefactor of the Hudson Valley Arthritis Walk. The top three fund raising teams were Team Sami captained by Crystal Run radiology technologist, Cynthia Clemmons and her daughter Sami Clemmons, team Less Pain More Gain captained by Crystal Run physiatrist and this year's Medical Honoree, Dr. Jonathan Rudnick and team Blister Sisters captained by Crystal Run Employee Health Nurse, Anna Perry.
Dr. Jonathan Rudnick, Crystal Run physiatrist and arthritis awareness advocate, served as the 2013 Medical Honoree for the walk. "I am truly honored to have served as the Medical Honoree for this year's Hudson Valley Arthritis Walk. Many of my patients suffer from arthritis so it has been my pleasure to work closely with the Arthritis Foundation to increase public awareness, educate our local community and advocate for arthritis research," said Dr. Rudnick.
Crystal Run Healthcare has been a corporate sponsor of the Hudson Valley Arthritis walk since 2006. Each year, in addition to Crystal Run's corporate donation, employees from Crystal Run Healthcare form teams to raise awareness and funds to help fight arthritis, the nation's most common cause of disability.
--- Cutline: 2013 Medical Honoree, Dr. Jonathan Rudnick (standing, back row in yellow shirt) and his team Less Pain More Gain at the start line of the Hudson Valley Arthritis Walk.
About Crystal Run Healthcare: Crystal Run Healthcare is a premier multi-specialty group practice, and is among the fastest growing medical practices in the country. Crystal Run Healthcare includes over 300 providers, in over 40 medical specialties with 14 practice locations focusing on the healthcare needs of the mid-Hudson Valley and lower Catskill region. Crystal Run has a strong commitment to primary care, employing an outstanding group of physicians representing the specialties of Internal Medicine, Obstetrics/Gynecology, Family Practice, Geriatrics and Pediatrics. The practice also includes unsurpassed sub-specialists in a wide variety of medical and surgical specialties and sub-specialties. Crystal Run Healthcare offers fully accredited digital radiology and laboratory services and is a national leader in the use and advancement of electronic health records (EHR). Crystal Run Healthcare is accredited by The Joint Commission and is designated by the NCQA as a Level 3 Patient Centered-Medical Home. The practice was among the first 27 health care organizations in the nation to participate as an Accountable Care Organization (ACO) in the Medicare Shared Savings Program (MSSP) effective April 2012. NCQA recognition of Crystal Run as an Early Adopter seeking ACO Accreditation in January 2012 culminated in December 2012 with Crystal Run Healthcare achieving NCQA Level 2 ACO Accreditation. For more information about Crystal Run Healthcare visit our website at www.crystalrunhealthcare.com or call 845.615.6832.