Crystal Run Healthcare Donates Toys To Charities For Holidays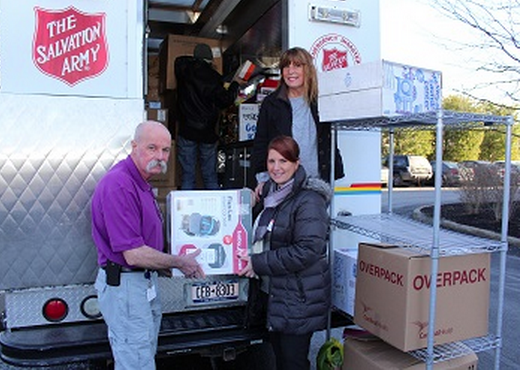 FOR IMMEDIATE RELEASE
For more information, contact: Mark Trocino | 845.615.6832 | mailto:marketing@crystalrunhealthcare.com
Middletown and Rock Hill, N.Y. – December 17, 2014 – Crystal Run Healthcare is helping to bring joy to many local children and families in need this holiday season. The staff at Crystal Run purchased toys and other gifts to be donated to children in need for the holidays. Employees purchased items such as books, bicycles, dolls, games, teddy bears, and clothing as well as many other gifts. The "Angel" gifts, which were purchased by employees in Crystal Run's Orange County offices, were donated to the Salvation Army of Middletown as part of their Angel Tree program. The "Snowmen" gifts were purchased by Crystal Run employees in the Rock Hill and Liberty offices and were donated to the United Way of Sullivan County as part of their Project Care Snowmen. In total, over 300 "Angels" and "Snowmen" gifts were donated to the two local charity organizations by the employees of Crystal Run Healthcare.
Crystal Run Healthcare employees first began purchasing holiday gifts for donation to charities back in 2002 and have continued to do so every year since. The holiday toy drive is one of many philanthropic programs that the employees of Crystal Run Healthcare support to help give back to the local communities. "It is a very special day each year when we help pack the trucks with all the gifts our employees have donated. I could not be more proud of our employees who always find ways to help others in need. Their generosity is amazing- it warms your heart for the holiday season," said Mary DeFreitas, Chief Human Resources Officer at Crystal Run Healthcare.
--- Cutline: Robert MacHugh, Facilities department (lower left) and Lynn Haskin, Marketing department (lower right) of Crystal Run Healthcare help Barbara Nobile (upper right) of the Salvation Army load the truck with toys that Crystal Run employees donated.
About Crystal Run Healthcare: Crystal Run Healthcare is a premier multispecialty group practice with over 300 providers in over 40 medical specialties and more than 20 practice locations in the Hudson Valley and lower Catskill region. Crystal Run has a strong commitment to primary care, employing an outstanding group of physicians in the specialties of Internal Medicine, Obstetrics/Gynecology, Family Practice, Geriatrics and Pediatrics. The practice also includes unsurpassed sub-specialists in a wide variety of medical and surgical specialties and sub-specialties. In addition to accreditation by The Joint Commission, Crystal Run is designated by the National Committee for Quality Assurance (NCQA) as a Level 3 Patient Centered-Medical Home. The practice is among the first 27 health care organizations in the nation to participate as an Accountable Care Organization (ACO) in the Medicare Shared Savings Program (MSSP). Crystal Run Healthcare achieved NCQA Level 2 ACO Accreditation in 2012, becoming the first health care organization to be so designated in New York State and among the first six in the United States. Leveraging its ACO experience, Crystal Run has entered into value-based care/shared savings arrangements with numerous commercial payers and a Medicaid Managed Care organization. As a result, contracts which reward Crystal Run for health outcomes now cover approximately 50 percent of the group's attributed primary care patients. Crystal Run has demonstrated its ability to manage population health, improving quality while simultaneously lowering per capita cost for the patients it serves. Crystal Run Healthcare and Mount Sinai Health System have recently announced the established the Mount Sinai-Crystal Run Alliance for Healthcare Transformation, a groundbreaking partnership in which the participants will share and implement best practices, invest and share financial and intellectual resources, strengthen provider networks, and employ innovative approaches to the creation of health care value—all in furtherance of the "Triple Aim" of Better Care, Better Health, and Lower Cost. For more information about Crystal Run Healthcare visit www.crystalrunhealthcare.com, and follow us on Twitter, LinkedIn and Facebook or call 845.703.6999.