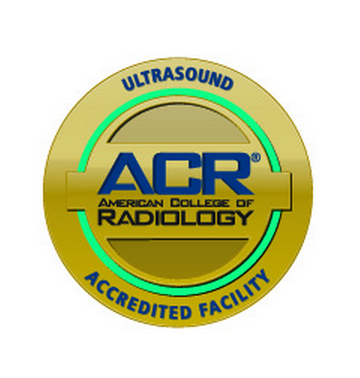 FOR IMMEDIATE RELEASE
Warwick, N.Y. – January 30, 2013 – Crystal Run Healthcare has been awarded ultrasound accreditation by the American College of Radiology (ACR) for their Women's Health and Imaging office in Warwick. In May of 2012, Crystal Run Healthcare expanded their Women's Health office located at 81 Ronald Reagan Boulevard in Warwick and added state-of-the-art imaging services including ultrasound, digital mammography and bone densitometry. The ACR gold seal of accreditation validates that Crystal Run has met the highest level of image quality and patient safety. The length of this accreditation is three years. This same accreditation has already been achieved at Crystal Run Healthcare offices in Middletown and Rock Hill.
Ultrasound imaging uses high-frequency sound waves to produce images of internal body parts to help providers diagnose illness, injury, or other medical problems. The ACR gold seal of accreditation is awarded only to facilities meeting ACR Practice Guidelines and Technical Standards. Image quality, personnel qualifications, adequacy of facility equipment, quality control procedures, and quality assurance programs are assessed. "We are very happy to have earned ACR ultrasound accreditation in our Warwick Women's Health office. This accreditation is a symbol of how Crystal Run is continuously improving health care for the local community of Warwick by providing the highest quality of care to our patients," said Cynthia Mento, CRA, Director of Diagnostic Imaging at Crystal Run Healthcare.
The American College of Radiology is a national professional organization serving more than 36,000 diagnostic/interventional radiologists, radiation oncologists, nuclear medicine physicians, and medical physicists with programs focusing on the practice of medical imaging and radiation oncology and the delivery of comprehensive health care services.
--- Cutline: ACR Gold Seal of Accreditation in Ultrasound
About Crystal Run Healthcare:
Crystal Run Healthcare is a premier multi-specialty group practice, and is among the fastest growing medical practices in the country. Crystal Run Healthcare includes over 300 providers, in over 40 medical specialties with 15 practice locations focusing on the healthcare needs of the mid-Hudson Valley and lower Catskill region. Crystal Run has a strong commitment to primary care, employing an outstanding group of physicians representing the specialties of Internal Medicine, Obstetrics/Gynecology, Family Practice, Geriatrics and Pediatrics. The practice also includes unsurpassed sub-specialists in a wide variety of medical and surgical specialties and sub-specialties. Crystal Run Healthcare offers fully accredited digital radiology and laboratory services and is a national leader in the use and advancement of electronic health records (EHR). Crystal Run Healthcare is accredited by The Joint Commission and is designated by the NCQA as a Level 3 Patient Centered-Medical Home. The practice was among the first 27 health care organizations in the nation to participate as an Accountable Care Organization (ACO) in the Medicare Shared Savings Program (MSSP) effective April 2012. NCQA recognition of Crystal Run as an Early Adopter seeking ACO Accreditation in January 2012 culminated in December 2012 with Crystal Run Healthcare achieving NCQA Level 2 ACO Accreditation. For more information about Crystal Run Healthcare visit our website at
www.crystalrunhealthcare.com
or call 845.615.6832.