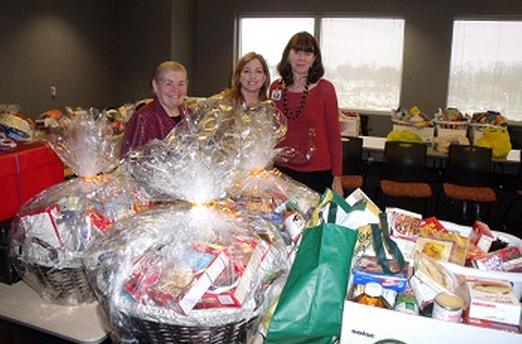 FOR IMMEDIATE RELEASE
For more information, contact: Mark Trocino | 845.615.6832 | mailto:marketing@crystalrunhealthcare.com
Middletown, N.Y. – November 27, 2013 – The employees of Crystal Run Healthcare brought joy and nourishment to those in need this holiday season by donating food items, gift cards, and other items to create delicious and nutritious food baskets. Crystal Run employees across 15 office sites created beautiful baskets filled with everything for a Thanksgiving dinner including table cloths, centerpieces and gift cards in addition to non-perishable food items such as canned goods, dry goods and mixes as well as fresh foods like vegetables, fruits and turkeys. On Friday, November 22nd the food baskets were distributed to 31 local families as well as the Boys and Girls Clubs of Town of Wallkill that serves Orange and Sullivan Counties and the Guild of St. Margaret Soup Kitchen in Middletown.
This holiday food drive is one of many philanthropic programs that the employees of Crystal Run Healthcare support to help give back to their local communities. "The employees of Crystal Run are so generous, even in this challenging economy. They went above and beyond putting together such beautiful baskets and because of them the Thanksgiving holiday will be brighter for so many," said Tara Kammarada, Director of Human Resources at Crystal Run Healthcare.
"We want to thank Crystal Run Healthcare for their donation of food baskets, turkeys and gift cards. It is generosity like theirs that makes it possible for Boys & Girls Clubs to provide nourishing meals to our Club kids and their families, to ensure they have a very happy and healthy Thanksgiving," said Alexis Eggleton, Executive Director, Boys and Girls Clubs of Town of Wallkill.
--- Cutline: From left to right, Elizabeth D'Antonio, Human Resources Associate; Tara Kammarada, Director of Human Resources; and Heidi Bausch, Surgical Scheduler at Crystal Run Healthcare prepare Thanksgiving baskets to be given to families and charities in need.
About Crystal Run Healthcare: Crystal Run Healthcare is a premier multi-specialty group practice, and is among the fastest growing medical practices in the country. Crystal Run Healthcare includes over 300 providers, in over 40 medical specialties with 15 practice locations focusing on the healthcare needs of the mid-Hudson Valley and lower Catskill region. Crystal Run has a strong commitment to primary care, employing an outstanding group of physicians representing the specialties of Internal Medicine, Obstetrics/Gynecology, Family Practice, Geriatrics and Pediatrics. The practice also includes unsurpassed sub-specialists in a wide variety of medical and surgical specialties and sub-specialties. Crystal Run Healthcare offers fully accredited digital radiology and laboratory services and is a national leader in the use and advancement of electronic health records (EHR). Crystal Run Healthcare is accredited by The Joint Commission and is designated by the NCQA as a Level 3 Patient Centered-Medical Home. The practice was among the first 27 health care organizations in the nation to participate as an Accountable Care Organization (ACO) in the Medicare Shared Savings Program (MSSP) effective April 2012. NCQA recognition of Crystal Run as an Early Adopter seeking ACO Accreditation in January 2012 culminated in December 2012 with Crystal Run Healthcare achieving NCQA Level 2 ACO Accreditation. For more information about Crystal Run Healthcare visit our website at www.crystalrunhealthcare.com or call 845.615.6832.