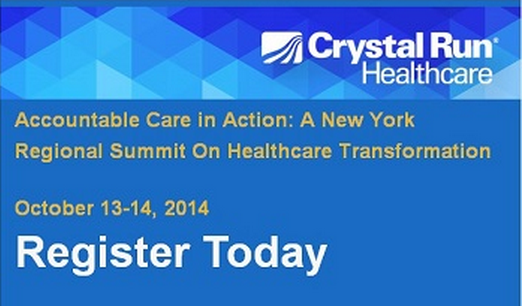 FOR IMMEDIATE RELEASE
For more information, contact: Mark Trocino | 845.615.6832 |
mailto:marketing@crystalrunhealthcare.com
Middletown, N.Y. – September 4, 2014 – Crystal Run Healthcare will host a regional summit—Accountable Care in Action: A New York Regional Summit On Healthcare Transformation—on October 13th and 14th at Mohonk Mountain House in New Paltz, New York. Plenary sessions presented by top health care leaders and policy experts including Courtney Burke, Deputy Secretary for Health for New York State, Kavita Patel, MD, Managing Director for Clinical Transformation and Delivery at the Engelberg Center for Healthcare Reform at the Brookings Institution and Robert D. Belfort, Partner at Manatt, Phelps & Phillips, LLP will include The State of Healthcare & How To Thrive In A Rapidly Changing Environment and National Issues, State Issues, And Legal Challenges To The Affordable Care Act (Panel Discussion). In addition, in conjunction with the recently announced Mount Sinai-Crystal Run Alliance for Healthcare Transformation, Jeremy Boal, MD, Executive Vice President and Chief Medical Officer at Mount Sinai Health System, will present: A Health System's Perspective on Accountable Care – The Mount Sinai Experience.
The summit will also include breakout sessions presented by Crystal Run Healthcare leadership including, Hal Teitelbaum, MD, JD, MBA, Managing Partner and CEO; Michelle A. Koury, MD, Chief Operating Officer; Gregory Spencer, MD, Chief Medical Officer and Chief Medical Information Officer; Jonathan Nasser, MD, Chief Clinical Transformation Officer; Scott Hines, MD, Chief Quality Officer; Douglas Sansted, Chief Legal Officer; Betty Jessup, RN, Director of Quality and Patient Safety; and Helen Portalatin, RN, MSN, FNP-C, Director Care Team. The sessions will explore strategies for current and future Accountable Care Organizations (ACOs) and provide the tools necessary to succeed in an ever-changing healthcare environment. Breakout sessions will include:
Variation Reduction: A Process To Improve Quality, Engage Physicians, Improve Access, And Reduce Cost
Building A Value Based Compensation Model
How Can Joint Commission, Patient Centered Medical Home, and NCQA ACO Accreditation Transform Your Practice Into an ACO and MSO?
Ready, Triple Aim, Align: Using the Triple Aim to Align Providers and Transform Care
Building The Necessary Technological Infrastructure To Succeed As An ACO
There's No Place Like Home: Care Management, Transitional Care, and Medical Neighborhoods
How to Successfully Negotiate Risk Based Contracts with Commercial Payers and Achieve Value
Physician Engagement: The First Step In Building A Successful ACO
Healthcare Executives, Physician Leaders, Nurse Leaders and Care Managers that operate in New York should plan to attend.
The summit will be held at Mohonk Mountain House, 1000 Mountain Rest Rd, New Paltz, NY 12561. The cost of the conference is $425 per person and includes meals and networking dinner. Overnight accommodations are available for $200 per person.
About Crystal Run Healthcare: Crystal Run Healthcare is a premier multispecialty group practice with over 300 providers in over 40 medical specialties and more than 20 practice locations in the Hudson Valley and lower Catskill region. Crystal Run has a strong commitment to primary care, employing an outstanding group of physicians in the specialties of Internal Medicine, Obstetrics/Gynecology, Family Practice, Geriatrics and Pediatrics. The practice also includes unsurpassed sub-specialists in a wide variety of medical and surgical specialties and sub-specialties. In addition to accreditation by The Joint Commission, Crystal Run is designated by the National Committee for Quality Assurance (NCQA) as a Level 3 Patient Centered-Medical Home. The practice is among the first 27 health care organizations in the nation to participate as an Accountable Care Organization (ACO) in the Medicare Shared Savings Program (MSSP). Crystal Run Healthcare achieved NCQA Level 2 ACO Accreditation in 2012, becoming the first health care organization to be so designated in New York State and among the first six in the United States. Leveraging its ACO experience, Crystal Run has entered into value-based care/shared savings arrangements with numerous commercial payers and a Medicaid Managed Care organization. As a result, contracts which reward Crystal Run for health outcomes now cover approximately 50 percent of the group's attributed primary care patients. Crystal Run has demonstrated its ability to manage population health, improving quality while simultaneously lowering per capita cost for the patients it serves. Crystal Run Healthcare and Mount Sinai Health System have recently announced the established the Mount Sinai-Crystal Run Alliance for Healthcare Transformation, a groundbreaking partnership in which the participants will share and implement best practices, invest and share financial and intellectual resources, strengthen provider networks, and employ innovative approaches to the creation of health care value—all in furtherance of the "Triple Aim" of Better Care, Better Health, and Lower Cost. For more information about Crystal Run Healthcare visit www.crystalrunhealthcare.com, and follow us on Twitter, LinkedIn and Facebook or call 845.703.6999.