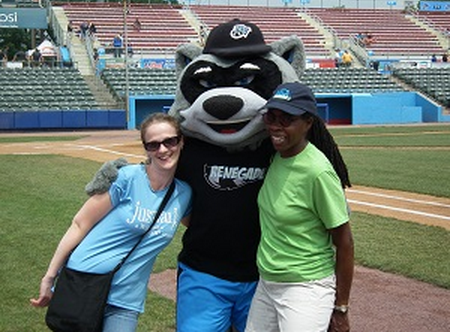 FOR IMMEDIATE RELEASE
For more information, contact: Mark Trocino | 845.615.6832 | mailto:marketing@crystalrunhealthcare.com
Middletown, N.Y. – July 21, 2014 – Crystal Run Healthcare has partnered with the Hudson Valley Renegades to host a Walk with a Doc at Dutchess Stadium prior to the Renegades' August 10th game. Walkers and baseball fans of all ages and abilities are welcome to come out to enjoy the walk and stay for the Renegades game. The walk will take place on the field around the perimeter of the warning track. The Crystal Run physicians that will lead this walk will be Dr. Jonathan Nasser, Dr. Kimberly Estler, Dr. Michelle Koury, Dr. Steven Rowe, Dr. Jocelyn Dummett and Dr. Wico Chu. Rascal the raccoon as well as other mascots from the Renegades will also be at the stadium to welcome everyone and encourage the walkers.
Walk with a Doc is a national non-profit organization and program that encourages heart health in local communities by partnering with healthcare organizations like Crystal Run Healthcare to organize walks with physicians and healthcare professionals. Walkers enjoy a refreshing and rejuvenating walk with Crystal Run physicians who provide support to the walkers and answer questions along the way. Crystal Run held its first Walk with a Doc last spring and the program has continued to grow ever since. Local walkers and community members enjoy the organized walks each month at various parks in Orange County.
"Walking is a simple and convenient way to make strides towards a healthy lifestyle. Crystal Run Healthcare is excited to partner with the Hudson Valley Renegades to have our Walk with a Doc at Dutchess Stadium. We are looking forward to walking on the same field that the Renegades play on as the whole community gets healthy together," said Jonathan Nasser, MD, physician and Walk with a Doc Team Leader for Crystal Run Healthcare.
Crystal Run will be giving away free tickets to this walk on Facebook and their website. Anyone interested in attending the walk should visit facebook.com/CrystalRunHealthcare for a chance to win free tickets. Participants do not have to be a patient of Crystal Run Healthcare to attend this walk but are required to have a ticket to the game since the walk is being held inside Dutchess Stadium. Tickets are also available for purchase on the Renegades website at hvrenegades.com or at the box office the day of the game. The walk will begin at 3:30pm and should last for about an hour. The gates for the stadium will open fifteen minutes prior to the start of the walk. The Renegades game against the Tri-City Valley Cats will follow the walk at 5:05pm.
"The Hudson Valley Renegades are extremely happy to bring a Walk with a Doc here to Dutchess Stadium with our partners Crystal Run Healthcare. Just like Crystal Run, we advocate healthy living and what better way for our fans to get healthy than walking on the very field they will see the Renegades play on," said Eben Yager, General Manager, Hudson Valley Renegades.
--- Cutline: Crystal Run Healthcare Pediatrician, Dr. Jocelyn Dummett (right) and Medical Assistant Jodi Ianazzi (left) pose for a picture with Hudson Valley Renegades mascot Rascal at last year's Walk with a Doc at Dutchess Stadium.
About Crystal Run Healthcare: Crystal Run Healthcare is a premier multi-specialty group practice, and is among the fastest growing medical practices in the country. Crystal Run Healthcare includes over 300 providers, in over 40 medical specialties with 20 practice locations focusing on the healthcare needs of the mid-Hudson Valley and lower Catskill region. Crystal Run has a strong commitment to primary care, employing an outstanding group of physicians representing the specialties of Internal Medicine, Obstetrics/Gynecology, Family Practice, Geriatrics and Pediatrics. The practice also includes unsurpassed sub-specialists in a wide variety of medical and surgical specialties and sub-specialties. Crystal Run Healthcare offers fully accredited digital radiology and laboratory services and is a national leader in the use and advancement of electronic health records (EHR). Crystal Run Healthcare is accredited by The Joint Commission and is designated by the NCQA as a Level 3 Patient Centered-Medical Home. The practice was among the first 27 health care organizations in the nation to participate as an Accountable Care Organization (ACO) in the Medicare Shared Savings Program (MSSP) effective April 2012. NCQA recognition of Crystal Run as an Early Adopter seeking ACO Accreditation in January 2012 culminated in December 2012 with Crystal Run Healthcare achieving NCQA Level 2 ACO Accreditation, the first such designation in New York. For more information about Crystal Run Healthcare visit www.crystalrunhealthcare.com, and follow us on Twitter, LinkedIn and Facebook or call 845.703.6999.