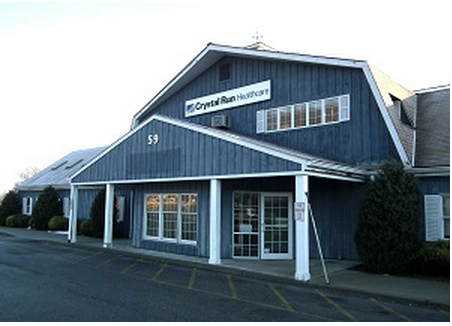 FOR IMMEDIATE RELEASE
For more information, contact: Mark Trocino | 845.615.6832 | mailto:marketing@crystalrunhealthcare.com
Newburgh, N.Y. – February 6, 2014 – On Tuesday, February 25, 2014 Crystal Run Healthcare will hold an Open House & Ribbon Cutting from 10am to 1pm, in their newly opened Medical Office and Urgent Care in Newburgh located at 59 Route 32, Suite 100. The ceremonial ribbon cutting will take place at 10:30am. This event is free and open to the public and will feature free glucose screenings, blood pressure checks and flu shots. Lite refreshments will be served and guests can also take advantage of office tours provided by staff as well as provider meet and greet. Representatives from Adams Fairacre Farms in Newburgh will be onsite to share heart healthy recipes and radio station K104.7 will also be onsite with their wheel of prizes.
Crystal Run Healthcare's newest medical office and Urgent Care in Newburgh opened its doors to the public on January 22. In addition to offering both Urgent Care and Primary Care, specialties include Cardiology, Endocrinology, Gastroenterology, Neurology, Otolaryngology, Orthopedic/Sports Medicine, Pulmonary & Critical Care Medicine, and Urology.
Guests are encouraged to register online by visiting CrystalRunHealthcare.com/OpenHouse or by calling 845.703.6342, though walk-ins are welcome. This is a free event and all members of the community are welcome to join.
--- Cutline: Crystal Run Healthcare's newest medical office and Urgent Care serving the Newburgh area. 59 Route 32, Suite 100, in New Windsor, NY 12553.
About Crystal Run Healthcare: Crystal Run Healthcare is a premier multi-specialty group practice, and is among the fastest growing medical practices in the country. Crystal Run Healthcare includes over 300 providers, in over 40 medical specialties with 15 practice locations focusing on the healthcare needs of the mid-Hudson Valley and lower Catskill region. Crystal Run has a strong commitment to primary care, employing an outstanding group of physicians representing the specialties of Internal Medicine, Obstetrics/Gynecology, Family Practice, Geriatrics and Pediatrics. The practice also includes unsurpassed sub-specialists in a wide variety of medical and surgical specialties and sub-specialties. Crystal Run Healthcare offers fully accredited digital radiology and laboratory services and is a national leader in the use and advancement of electronic health records (EHR). Crystal Run Healthcare is accredited by The Joint Commission and is designated by the NCQA as a Level 3 Patient Centered-Medical Home. The practice was among the first 27 health care organizations in the nation to participate as an Accountable Care Organization (ACO) in the Medicare Shared Savings Program (MSSP) effective April 2012. NCQA recognition of Crystal Run as an Early Adopter seeking ACO Accreditation in January 2012 culminated in December 2012 with Crystal Run Healthcare achieving NCQA Level 2 ACO Accreditation. For more information about Crystal Run Healthcare visit www.crystalrunhealthcare.com, and follow us on Twitter, LinkedIn and Facebook or call 845.615.6832.