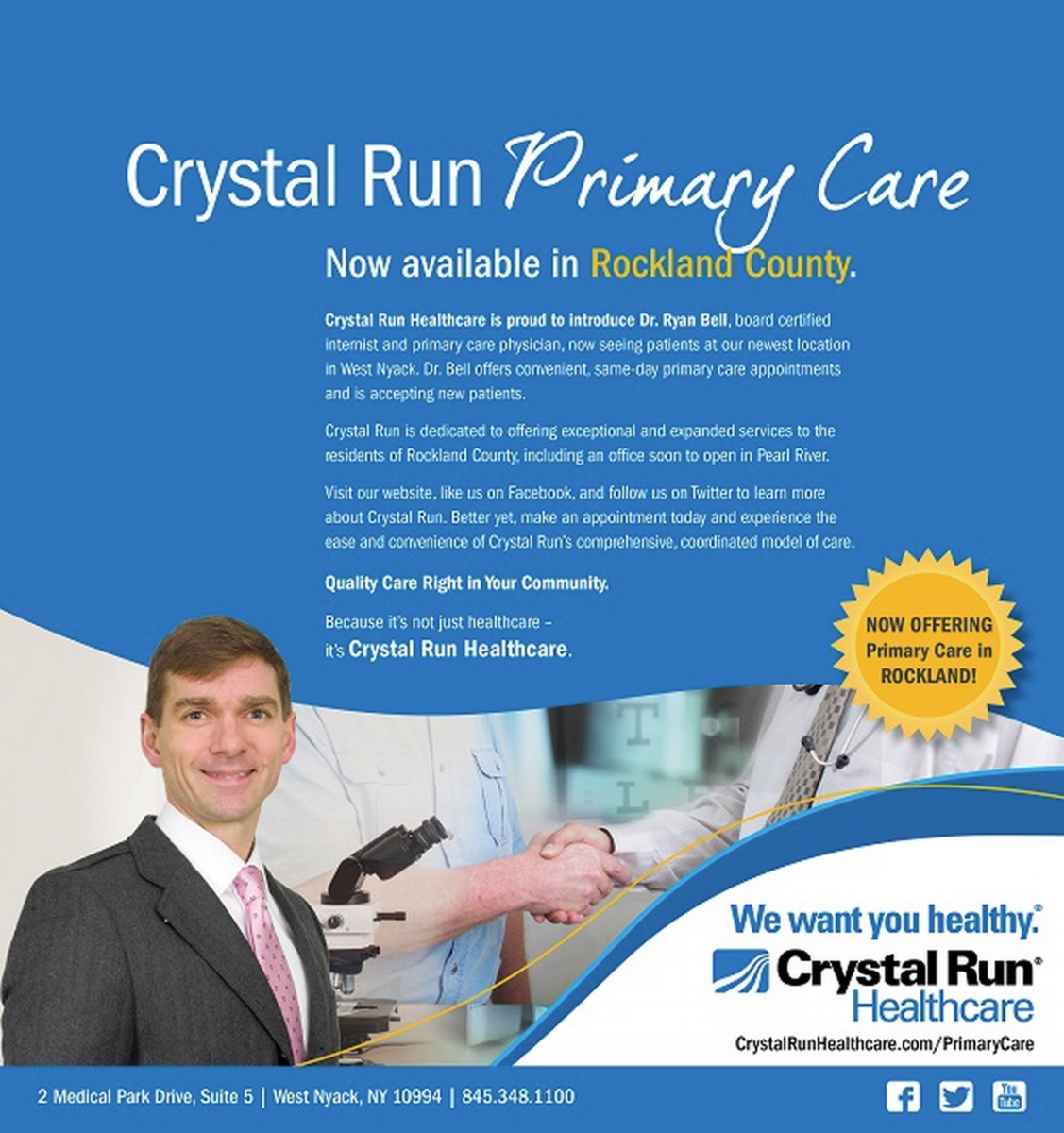 FOR IMMEDIATE RELEASE
For more information, contact: Mark Trocino | 845.615.6832 | mailto:marketing@crystalrunhealthcare.com
West Nyack, N.Y. – June 23, 2014 – Crystal Run Healthcare is pleased to announce that Dr. Ryan Bell, board certified internist and primary care physician, is now seeing patients at 2 Medical Park Drive, Suite 5 in West Nyack, NY. The phone number is 845-348-1100. Dr. Bell offers convenient, same-day primary care appointments and is accepting new patients.
In addition to this office, Crystal Run cardiologists (formerly of Advanced Cardiovascular Care of Hudson Valley) see patients in offices located in Valley Cottage, NY and Northvale, NJ. Crystal Run Healthcare will soon add additional specialties, including neurology, endocrinology, gastroenterology, and obstetrics and gynecology to its West Nyack location, as well as new locations in Pearl River and Pomona.
Ryan A. Bell, MD, is board certified in Internal Medicine. He received his Medical Degree from Uniformed Services University of the Health Sciences in Bethesda, MD. Dr. Bell completed his Residency in Internal Medicine at National Naval Medical Center in Bethesda, MD. Dr. Bell joined Crystal Run Healthcare in 2013.
"I am happy to open Crystal Run's newest office in West Nyack and look forward to helping the residents of Rockland County have even more access to convenient, personalized and coordinated primary care. I look forward to working with other quality physicians in Rockland County to best serve our patients," said Ryan A. Bell, MD, of Crystal Run Healthcare.
For more information about the Crystal Run's newest office in West Nyack or to schedule an appointment with Dr. Bell, please visit CrystalRunHealthcare.com/RocklandPC or call 845-348-1100.
--- Cutline: Dr. Ryan Bell, board certified Internist at Crystal Run Healthcare seeing new patients in West Nyack, NY.
About Crystal Run Healthcare: Crystal Run Healthcare is a premier multi-specialty group practice, and is among the fastest growing medical practices in the country. Crystal Run Healthcare includes over 300 providers, in over 40 medical specialties with 20 practice locations focusing on the healthcare needs of the mid-Hudson Valley and lower Catskill region. Crystal Run has a strong commitment to primary care, employing an outstanding group of physicians representing the specialties of Internal Medicine, Obstetrics/Gynecology, Family Practice, Geriatrics and Pediatrics. The practice also includes unsurpassed sub-specialists in a wide variety of medical and surgical specialties and sub-specialties. Crystal Run Healthcare offers fully accredited digital radiology and laboratory services and is a national leader in the use and advancement of electronic health records (EHR). Crystal Run Healthcare is accredited by The Joint Commission and is designated by the NCQA as a Level 3 Patient Centered-Medical Home. The practice was among the first 27 health care organizations in the nation to participate as an Accountable Care Organization (ACO) in the Medicare Shared Savings Program (MSSP) effective April 2012. NCQA recognition of Crystal Run as an Early Adopter seeking ACO Accreditation in January 2012 culminated in December 2012 with Crystal Run Healthcare achieving NCQA Level 2 ACO Accreditation, the first such designation in New York. For more information about Crystal Run Healthcare visit www.crystalrunhealthcare.com, and follow us on Twitter, LinkedIn and Facebook or call 845.703.6999.