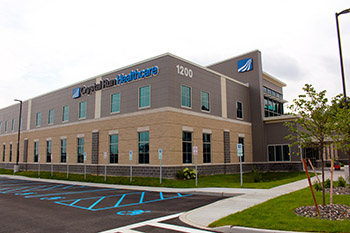 FOR IMMEDIATE RELEASE
For more information, contact: Mark Trocino | 845.615.6832 | mailto:marketing@crystalrunhealthcare.com
CRYSTAL RUN HEALTHCARE OPENS NEW MEDICAL FACILITY IN NEWBURGH
Innovative design delivers new levels of convenience, efficiency, and quality care
Newburgh, N.Y. – July 28, 2015 – Crystal Run Healthcare is proud to announce the opening of its new, innovatively designed medical facility to the Newburgh community. The multi-specialty, one-stop healthcare destination offers fast check-ins, in-room check-outs, and focuses on what matters most to patients – a better healthcare experience.
"It was important to us to give the Newburgh community a truly exceptional facility, with a broad range of specialties and services," explained Crystal Run's Managing Partner and CEO, Hal Teitelbaum, MD, JD, MBA. "But this facility was also designed to transform the patient experience, and serve as the model for all new Crystal Run facilities going forward".
The 66,000 square foot multi-specialty medical office was modeled after The Everett Clinic's Smokey Point facility in Washington State. Open as of July 20th, it houses more than 20 medical and surgical specialties, from primary care and urgent care to cardiology and neurology and provides patients with access to all of Crystal Run's over 40 specialties. It includes an endoscopy suite, infusion center, and provides full diagnostic testing, including state of the art imaging.
Beyond serving as a one-stop healthcare destination for patients, Crystal Run's newest facility was planned with patient safety and convenience in mind, along with enhanced efficiency, quality, and service excellence in healthcare. Kiosks, rapid check-in, and improved utilization of exam room space reduce wait time for patients, while they are discharged directly from the exam room with no additional check-out procedure. Real-time documentation prevents errors, and makes it easier for patients to become educated about their conditions and treatments.
The facility provides a comfortable and efficient working space for medical and administrative staff, and features an inviting atrium where patients can enjoy an open and well-lit space, with easy access to all the providers and services. Above all, it fosters better engagement between patients and their providers, and facilitates collaboration among providers to support the best care as well as the best patient experience.
About Crystal Run Healthcare: Crystal Run Healthcare is a premier multispecialty group practice with over 350 providers in over 40 medical specialties and more than 30 practice locations in the Hudson Valley and lower Catskill region. Crystal Run has a strong commitment to primary care, employing an outstanding group of physicians in the specialties of Internal Medicine, Obstetrics/Gynecology, Family Practice, Geriatrics and Pediatrics. The practice also includes unsurpassed sub-specialists in a wide variety of medical and surgical specialties and sub-specialties. In addition to accreditation by The Joint Commission, Crystal Run is designated by the National Committee for Quality Assurance (NCQA) as a Level 3 Patient Centered-Medical Home. The practice is among the first 27 health care organizations in the nation to participate as an Accountable Care Organization (ACO) in the Medicare Shared Savings Program (MSSP). Crystal Run Healthcare achieved NCQA Level 2 ACO Accreditation in 2012, becoming the first health care organization to be so designated in New York State and among the first six in the United States. Leveraging its ACO experience, Crystal Run has entered into value-based care/shared savings arrangements with numerous commercial payers and a Medicaid Managed Care organization. As a result, contracts which reward Crystal Run for health outcomes now cover approximately 50 percent of the group's attributed primary care patients. Crystal Run has demonstrated its ability to manage population health, improving quality while simultaneously lowering per capita cost for the patients it serves. Crystal Run Healthcare and Mount Sinai Health System have recently announced the established the Mount Sinai-Crystal Run Alliance for Healthcare Transformation, a groundbreaking partnership in which the participants will share and implement best practices, invest and share financial and intellectual resources, strengthen provider networks, and employ innovative approaches to the creation of health care value—all in furtherance of the "Triple Aim" of Better Care, Better Health, and Lower Cost. For more information about Crystal Run Healthcare visit www.crystalrunhealthcare.com, and follow us on Twitter, LinkedIn and Facebook or call 845.703.6999.
# # #