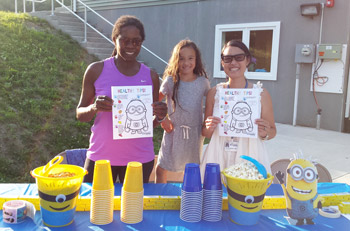 FOR IMMEDIATE RELEASE
For more information, contact: Mark Trocino | 845.615.6832 | mailto:marketing@crystalrunhealthcare.com
CRYSTAL RUN HEALTHCARE SPONSORS TOWN OF WALLKILL BOYS & GIRLS CLUBS FAMILY MOVIE NIGHT SHOWING OF DESPICABLE ME 2
Wallkill, N.Y. – July 20, 2015 – Crystal Run Healthcare sponsored the Town of Wallkill Boys & Girls Clubs family movie night on Friday, July 10th at the Clubhouse in the Circleville Town Park. Kids of all ages and their families attended the free event, which offered education and fun activities, free popcorn and refreshments, and a showing of Despicable Me 2.
Crystal Run Healthcare Pediatricians, Dr. Jocelyn Dummett and Dr. Lin-Lin Remenar, attended the event to welcome families and to encourage healthy eating habits. A minion-themed coloring sheet was handed out to the 40 youths who were in attendance, which included tips such as pre-slicing vegetables to have on hand as a healthy snack, or mixing seltzer and fruit juice together in place of soda.
Family movie night is one of many events that Crystal Run Healthcare supports and sponsors throughout the year, in order to give back to local communities.
--- Cutline: Crystal Run Healthcare Pediatricians, Dr. Jocelyn Dummett (left) and Dr. Lin-Lin Remenar (right), and Sydney Remenar (center) pose for a picture in front of the welcome table with a 'Healthy Tips' handout, at Friday night's event.
About Crystal Run Healthcare: Crystal Run Healthcare is a premier multi-specialty group practice, and is among the fastest growing medical practices in the country. Crystal Run Healthcare includes over 300 providers, in over 40 medical specialties with 20 practice locations focusing on the healthcare needs of the mid-Hudson Valley and lower Catskill region. Crystal Run has a strong commitment to primary care, employing an outstanding group of physicians representing the specialties of Internal Medicine, Obstetrics/Gynecology, Family Practice, Geriatrics and Pediatrics. The practice also includes unsurpassed sub-specialists in a wide variety of medical and surgical specialties and sub-specialties. Crystal Run Healthcare offers fully accredited digital radiology and laboratory services and is a national leader in the use and advancement of electronic health records (EHR). Crystal Run Healthcare is accredited by The Joint Commission and is designated by the NCQA as a Level 3 Patient Centered-Medical Home. The practice was among the first 27 health care organizations in the nation to participate as an Accountable Care Organization (ACO) in the Medicare Shared Savings Program (MSSP) effective April 2012. NCQA recognition of Crystal Run as an Early Adopter seeking ACO Accreditation in January 2012 culminated in December 2012 with Crystal Run Healthcare achieving NCQA Level 2 ACO Accreditation, the first such designation in New York. For more information about Crystal Run Healthcare visit www.crystalrunhealthcare.com, and follow us on Twitter, LinkedIn and Facebook or call 845.703.6999.
# # #