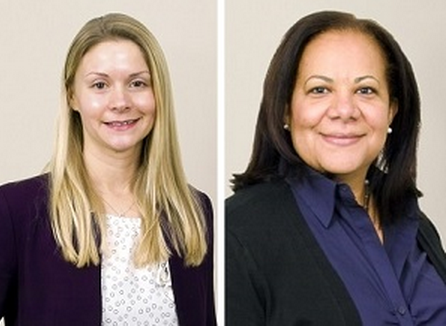 FOR IMMEDIATE RELEASE
For more information, contact: Mark Trocino | 845.615.6832 | mailto:marketing@crystalrunhealthcare.com
Middletown, N.Y. – February 12, 2014 – Crystal Run Healthcare announces the addition of two new social workers to the practice's Psychiatry division. Joining Crystal Run Healthcare are:
Social Worker Kelly Harris, LCSW, earned her Bachelor of Science from Montclair State University in Montclair, NJ and completed her Masters in Social Work at Adelphi University in Poughkeepsie, NY. Clinical interests include, treating children, adolescents, families and young adults with anxiety, depression, mood disorders, behavioral issues, developmental disorders and self-esteem issues as well as family and play therapy. Ms. Harris is now seeing patients in Middletown.
Social Worker Sandra Taveras, LCSW, earned her Bachelor of Arts from CUNY Hunter College in New York, NY and completed her Masters in Social Work at Fordham University School of Social Work in New York, NY. Clinical interests include, working with adults, adolescents and children, mood disorders, psychotic disorders, behavioral disorders, co-occurring disorders and family therapy. Ms. Taveras is now seeing patients in Middletown.
Crystal Run's Psychiatry division was started in August of 2013 by Drs. Nicholas and Lisa Batson, who are both Board Certified in Adult Psychiatry and Fellowship-trained in Child and Adolescent Psychiatry. The addition of Social Workers Kelly Harris and Sandra Taveras to Crystal Run's Psychiatry division expands Crystal Run's ability to serve children, adolescents and adult patients that suffer from conditions such as depression, anxiety, bipolar disorder, autism spectrum disorders and developmental disorders, attention deficit hyperactivity disorder (ADHD) in children and adults, disruptive behavioral disorders and psychotic disorders. As with many other specialties at Crystal Run, Psychiatry is an integral part of the patient-centered medical home model of care that emphasizes the importance of treating the whole person, including psychological conditions, as part of a patients overall treatment plan.
Both Kelly Harris and Sandra Taveras are now accepting patient appointments in Middletown. For more information on Psychiatry or to schedule an appointment with either of them, visit the Crystal Run Healthcare Psychiatry page at crystalrunhealthcare.com/Specialties/Psychiatry.aspx or call 845.703.6999.
--- Cutline: Kelly Harris, LCSW, (left) and Sandra Taveras, LCSW, (right)
About Crystal Run Healthcare: Crystal Run Healthcare is a premier multi-specialty group practice, and is among the fastest growing medical practices in the country. Crystal Run Healthcare includes over 300 providers, in over 40 medical specialties with 15 practice locations focusing on the healthcare needs of the mid-Hudson Valley and lower Catskill region. Crystal Run has a strong commitment to primary care, employing an outstanding group of physicians representing the specialties of Internal Medicine, Obstetrics/Gynecology, Family Practice, Geriatrics and Pediatrics. The practice also includes unsurpassed sub-specialists in a wide variety of medical and surgical specialties and sub-specialties. Crystal Run Healthcare offers fully accredited digital radiology and laboratory services and is a national leader in the use and advancement of electronic health records (EHR). Crystal Run Healthcare is accredited by The Joint Commission and is designated by the NCQA as a Level 3 Patient Centered-Medical Home. The practice was among the first 27 health care organizations in the nation to participate as an Accountable Care Organization (ACO) in the Medicare Shared Savings Program (MSSP) effective April 2012. NCQA recognition of Crystal Run as an Early Adopter seeking ACO Accreditation in January 2012 culminated in December 2012 with Crystal Run Healthcare achieving NCQA Level 2 ACO Accreditation. For more information about Crystal Run Healthcare visit www.crystalrunhealthcare.com, and follow us on Twitter, LinkedIn and Facebook or call 845.615.6832.