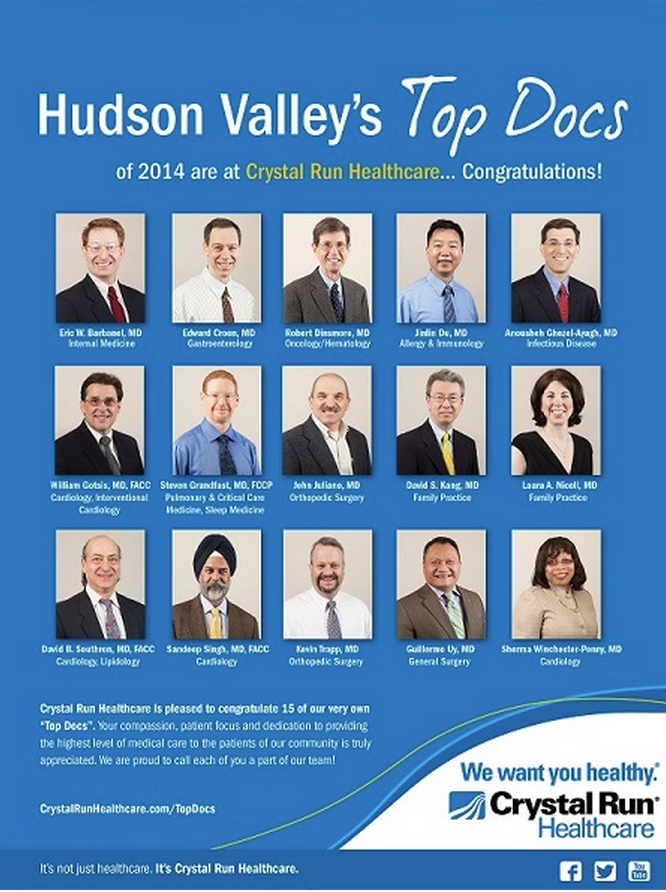 FOR IMMEDIATE RELEASE
For more information, contact: Mark Trocino | 845.615.6832 | mailto:marketing@crystalrunhealthcare.com
Middletown, N.Y. – May 21, 2014 – Fifteen Crystal Run Healthcare physicians have been recognized by their peers as the area's best doctors in Castle Connolly's "Top Docs" listing. Castle Connolly is a healthcare research and information firm who surveys physicians and hospital administrators to identify highly skilled and exceptional doctors. The results of Castel Connolly's surveys and research are published in their annual "Top Doctors Guides" as well as are featured in publications such as Hudson Valley Magazine and US News and World Report. In the June issue of Hudson Valley Magazine, fifteen Crystal Run Healthcare physicians were among the 190 top physicians in the Hudson Valley. Since 2011, Crystal Run has had physicians on the "Top Docs" list in the double digits which is a testament to the high quality care that they provide as well as the care and compassion they show to their patients.
Crystal Run Healthcare's Top Docs of 2014 are:
Internal Medicine - Eric. W. Barbanel, MD
Gastroenterology - Edward Croen, MD
Oncology/Hematology - Robert Dinsmore, MD
Allergy & Immunology - Jinlin Du, MD
Infectious Disease - Anousheh Ghezel-Ayagh, MD
Cardiology - William Gotsis, MD, FACC; Sandeep Singh, MD, FACC; David B. Southren, MD, FACC; Sherma Winchester-Penny, MD
Pulmonary & Critical Care Medicine, Sleep Medicine - Steven Grundfast, MD, FCCP
Orthopedic Surgery - John Juliano, MD; Kevin Trapp, MD
Family Practice - David S. Kang, MD; Laura A. Nicoll, MD
General Surgery - Guillermo Uy, MD
"It is with great pleasure that I congratulate all of our fifteen "Top Docs" as they work tirelessly to ensure that we offer the highest level of care in a convenient, patient focused environment. Knowing that each one of them has been voted to the list by their peers illustrates what great physicians we have here at Crystal Run Healthcare," said Michelle A. Koury, MD, Chief Operating Officer at Crystal Run Healthcare.
To learn more about any of Crystal Run's "Top Docs" or to schedule an appointment visit CrystalRunHealthcare.com/TopDocs.
--- Cutline: Crystal Run Healthcare's "Top Docs"
About Crystal Run Healthcare: Crystal Run Healthcare is a premier multi-specialty group practice, and is among the fastest growing medical practices in the country. Crystal Run Healthcare includes over 300 providers, in over 40 medical specialties with 18 practice locations focusing on the healthcare needs of the mid-Hudson Valley and lower Catskill region. Crystal Run has a strong commitment to primary care, employing an outstanding group of physicians representing the specialties of Internal Medicine, Obstetrics/Gynecology, Family Practice, Geriatrics and Pediatrics. The practice also includes unsurpassed sub-specialists in a wide variety of medical and surgical specialties and sub-specialties. Crystal Run Healthcare offers fully accredited digital radiology and laboratory services and is a national leader in the use and advancement of electronic health records (EHR). Crystal Run Healthcare is accredited by The Joint Commission and is designated by the NCQA as a Level 3 Patient Centered-Medical Home. The practice was among the first 27 health care organizations in the nation to participate as an Accountable Care Organization (ACO) in the Medicare Shared Savings Program (MSSP) effective April 2012. NCQA recognition of Crystal Run as an Early Adopter seeking ACO Accreditation in January 2012 culminated in December 2012 with Crystal Run Healthcare achieving NCQA Level 2 ACO Accreditation. For more information about Crystal Run Healthcare visit www.crystalrunhealthcare.com, and follow us on Twitter, LinkedIn and Facebook or call 845.615.6832.