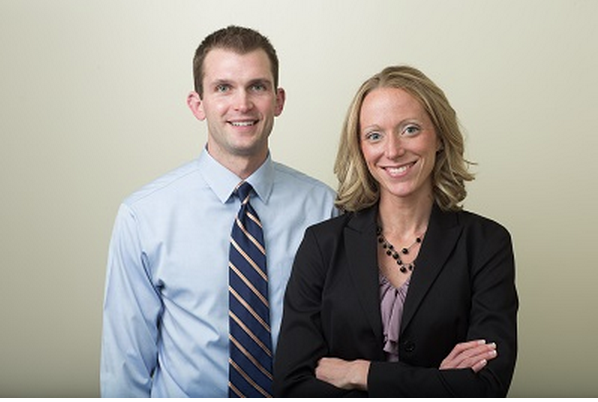 November 19, 2013 | By Deborah J. Botti
For the Times Herald Record
Psychiatrists Nicholas and Lisa Batson met in med school — over a dissection in anatomy lab, to be precise. "We've always been together, from medical school, to our residencies to our fellowships in child and adolescent psychiatry," says Lisa. "We've been partners and have always consulted with each other."
So the fact that their desks in the new psychiatry division at Crystal Run Healthcare that they are heading are about 2½ feet apart is not unusual. But it wasn't the primary draw.
"One of the main reasons we came up here is the integrated model," says Nicholas. "There is collaboration with the doctors."
And with collaboration comes education — and a focus on the whole person.
Still a stigma
The myriad diagnoses that fall under the scope of mental illness, which are treated by psychiatrists, still often butt up against a negative stigma that can interfere with treatment.
"People are nervous about coming to a psychiatrist," says Lisa, an Ellenville native. "But there's often a sense of relief after the hour consultation where we take the time to get to know them. Rather than just asking about symptoms, we try to form an alliance and develop a rapport."
"Again, the visits are an opportunity for education," says Nicholas. "We'll talk about the risks vs. the benefits of medications — or even if the medication they've seen on TV is appropriate.
"I emphasize (in the case of someone presenting with depression or anxiety, for example), that it's just bad things happening to a good person," he says. "And because we're physicians, we're able to consider whether another medical condition might be responsible for the symptoms — a thyroid condition or perhaps the 15 other medications that the patient is on."
Mind-body connection
Further, because they're physicians working among other physicians, there's a deeper nod to the mind-body connection, which also helps erode the stigma of mental illness. Another plus is the ability to easily send a patient down the hall for diagnostic lab work and immediately access the patient's complete medical records.
Since the Batsons' arrival in August, some patients have been referred to them by other Crystal Run doctors. Depression, for example, can have physical symptoms for which a patient might see a primary-care physician first.
"Depression and anxiety are the most common complaints," says Lisa. "And now their care can be handled under one roof."
The Batsons agree that the current financial and employment challenges are particularly stressful.
"But there's often a genetic component," says Lisa.
'It's not OK to suffer'
"And it's being recognized more and more that it's not OK to suffer and feel miserable," says Nicholas, who stresses they practice evidence-based medicine — treatment plans that work. "If someone is suffering and struggling more days than not, that's an indication they might need to speak to someone."
After the initial consultation, subsequent visits are 30 minutes to discuss progress, the effectiveness of medications, etc. The long-term plan is to have therapists included in Crystal Run's psychiatry division. The Batsons are also connected with the region's many organizations that offer wrap-around services — from bereavement to mental health and substance abuse programs — that can supplement some patients' treatment.
Helping children
The Batsons see patients age 3 and older. A young child, for example, might come from a family with a history of abuse or be acting out with severe tantrums.
Lisa says a psychiatrist is often called upon to offer diagnostic clarity in autism spectrum disorders and then can assist in obtaining the appropriate interventional services such as physical therapy, occupational therapy, behavioral therapy, and medication for aggressive behavior.
The Batsons agree that many of the local schools are very proactive in addressing issues concerning children such as ADHD, excessive crying in class, and bullying, which is on the rise.
"And when we see kids, one, if not both, parents are usually present," Nicholas says.
In the case of bullying, for example, safety is of paramount importance. The Batsons ensure that the parents and school are aware. They work on safety plans for the child. And they encourage getting the child into therapy to address the effects of the bullying.
Social media unfortunately has taken bullying to a new level, says Lisa, pointing to an "anonymous" website established for ruthless, personal posts. She encourages parents to be aware and educated about what their children might be exposed to, to limit what they can and to keep communication open.
"We look at working with children and adolescents as preventative medicine — building a foundation for their futures," says Lisa.
"Schools also take threats of suicide very seriously," says Nicholas. "And certainly, how we talk to a 6-year-old is very different than how we talk to an 86-year-old."
But the suicide rate among adults age 65 and older is disproportionately high, according to the National Institute of Mental Health, and dramatically increases for Caucasian men age 85 and older. "That's the generation that grew up not talking about their feelings," says Nicholas. "Often it's another family member or significant other who recognizes a problem. We want their input."
And with their individualized approach, the Batsons hope to encourage people of all ages to seek treatment to improve the quality of their lives.
For more information, visit crystalrunhealthcare.com/Specialties/Psychiatry.aspx or call 703-6999.