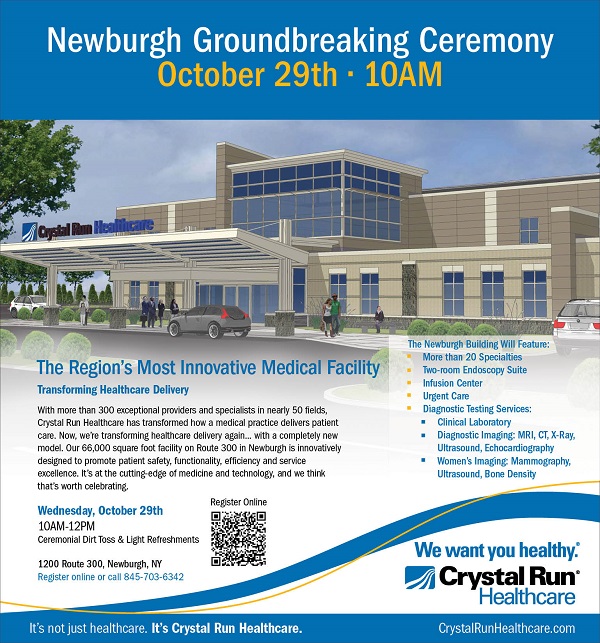 On Wednesday, October 29, 2014, Crystal Run Healthcare will hold a Ground Breaking Ceremony for their new multi-specialty facility being built in the Town of Newburgh on Route 300. The event will be held from 10am until 12pm and will include remarks from Crystal Run's Managing Partner and CEO, Hal Teitelbaum MD, JD, MBA and other dignitaries as well as a ceremonial dirt toss. The address for the event and the new facility is 1200 Route 300, Newburgh, NY (use 167 Old Little Britain Road for GPS). This event is free and open to the public. Lite refreshments will be served and special guest, Woodman from K104's Woodman in the Morning show will also be on site with his wheel of prizes.
With more than 300 exceptional providers and specialists in nearly 50 fields, Crystal Run Healthcare has transformed how a medical practice delivers patient care. Our new 66,000 square foot facility currently under construction on Route 300 in Newburgh is innovatively designed to promote patient safety, functionality, efficiency and service excellence. It's at the cutting-edge of medicine and technology, and will be the region's most innovative medical facility. This completely new model will feature:
More than 20 Specialties
Two-room Endoscopy Suite
Infusion Center
Urgent Care
Diagnostic Testing Services Including:
Clinical Laboratory
Diagnostic Imaging: MRI, CT, X-Ray, Ultrasound & Echocardiography
Women's Imaging: Mammography, Ultrasound, & Bone Density
Click here for more information or to register online. This is a free event and all members of the community are welcome to join.