You are here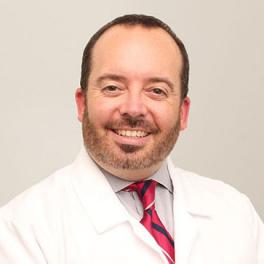 David M. Harrison MD, FACS
Specialties: General Surgery
Board Certified: General Surgery
Languages: English, Spanish
---
General Info
Medical School/Degree: Rutgers University/New Jersey Medical School
Hospital Affiliations: St. Luke's Cornwall Hospital
Prior Experience: St. Luke's Cornwall Hospital, Newburgh, NY
Residency: General Surgery, Case Western Reserve University, Cleveland, OH
Internship: General Surgery, Case Western Reserve University, Cleveland, OH
Undergraduate: The Pennsylvania State University
Clinical Interests:
I provide our community with state of the art services in general, minimally invasive, and vascular surgery. General surgery focuses on the abdomen as well as disease involving the breast, skin, thyroid, soft tissue, and hernia surgery. I do various advanced laparoscopic operations including colon resection, anti-reflux surgery, solid organ surgery, inguinal and ventral hernia repair, appendectomy, and gallbladder removal. For the pediatric population, I perform pyloromyotomy, hernia repair, appendectomy, and circumcision. My vascular skill set includes endovascular and open aortic aneurysm repair, peripheral revascularization, carotid endarterectomy, hemodialysis access, central venous access, and permanent pacemaker implantation.
Year Joined: 2014
---
About Me
What made you want to become a health care provider or what is your earliest memory of wanting to be one?
I grew up admiring my uncle's devotion to saving people's lives. I could not wait to become a surgeon and join his practice, which I did in July of 2000. With his guidance, my early professional growth was logarithmic. My uncle retired in 2008 after thirty-two years of service to our community.
What do you love most about your specialty? / Why did you choose your specialty?
General surgery is extremely rewarding. It provides an ideal balance between cognitive and procedural patient care. I am passionate about my specialty.
How do you connect with your patients?
I have a heartfelt appreciation for the relationships I build with my patients. Having been on both sides of the table, I understand what a powerful demonstration of trust it is for a person to allow me to operate on them or their child. We have mutual appreciation for each other.
What are your interests outside of the office (hobbies, activities)?
My family is most important to me. We love to go camping, swimming, and fishing together. I am an avid golfer, car enthusiast, and diehard football fan of the Nittany Lions and NY Giants. I also enjoy the peacefulness of mowing my lawn.
What is your advice for your patients?
I encourage patients to ask questions. I tell people to write questions down when they think of them so that they don't forget! I advocate balance and moderation. And of course, I tell everyone not to smoke cigarettes!
---