You are here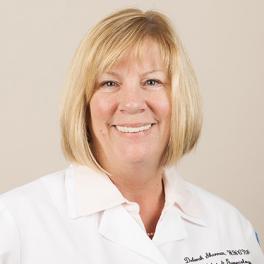 Deborah Sherman WHNP-BC
Specialties: Obstetrics & Gynecology
Board Certified: Women's Health Nurse Practitioner
Languages: English
---
General Info
Prior Experience: Womens Personal Care, Middletown, NY
Undergraduate: AAS/ RN - Orange County Community College, Middletown, NY
Graduate: WHCNP Program - SUNY Downstate, Brooklyn, NY
Clinical Interests:
All forms of contraception, Vaginitis, Prenatal education
Year Joined: 2002
---
About Me
What made you want to become a health care provider or what is your earliest memory of wanting to be one?
I love caring for women which is why I became a Nurse Practitioner.
What do you love most about your specialty? / Why did you choose your specialty?
I love caring for women; I am fascinated by our life cycles. I feel women are the soul of the family, with the gift of bringing new life into the world if they choose. By caring for women, I can indirectly impact the health of the family.
How do you connect with your patients?
I really try to listen closely to my patients, to discern their true needs and fears, then address them. Compassion, empathy and a sense of humor help that connection.
What are your interests outside of the office (hobbies, activities)?
Gardening, reading, golf, Pilates, my wonderful dogs, family.
What is your advice for your patients?
To know, respect and care for their bodies. Eat healthy, read labels, exercise, get enough sleep. Control what you have control over, let the rest go. Never, ever douche.
---