You are here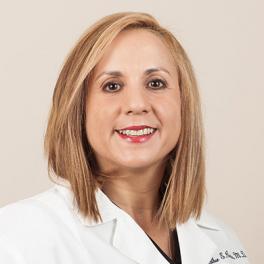 ---
General Info
Medical School/Degree: University Of Puerto Rico School of Medicine
Hospital Affiliations: Montefiore St. Luke's Cornwall, Nyack Hospital, Garnet Health Medical Center (ORMC)
Residency: Internal Medicine, Cabrini Medical Center, New York, NY
Internship: Internal Medicine, Cabrini Medical Center, New York, NY
Undergraduate: University of Puerto Rico
Clinical Interests:
sleep disorders and obstructive airway diseases
Year Joined: 2008
---
About Me
What made you want to become a health care provider or what is your earliest memory of wanting to be one?
I think since a very young age; growing up with one of my parents having health issues, I needed to learn to be a caregiver early and be supportive.
What do you love most about your specialty? / Why did you choose your specialty?
Well, what do I love the most? Many things: the challenge to deal with difficult cases, the satisfaction of being able to reverse illness and provide good health, to see the gratitude in the face of a patient after your hard work, the exposure to so many different people including patients and colleagues every day. There is always something new to learn or share. You will never get bored in this specialty and it makes your character stronger.
How do you connect with your patients?
I have learned that the best way to connect with a human being is to take some time to be quiet and listen carefully to their concerns and problems, show interest, to be sincere and honest with them every day. Treat them with respect, as I would like to be treated, and give them a smile every day.
What are your interests outside of the office (hobbies, activities)?
I am a dancer at heart so I take dance classes from Zumba to ballet, to modern dance. It helps me keep myself fit and mentally healthy. It makes me take myself lightly, forget about my worries and keeps my spirit young. I also like watching a good movie with my loved ones, keeping in touch with friends and family who are far away, going to my island, Puerto Rico, and doing some snorkeling there now and then, or going to the city to watch a good show on Broadway.
What is your advice for your patients?
I guess that would be please stop smoking.;-)
---