You are here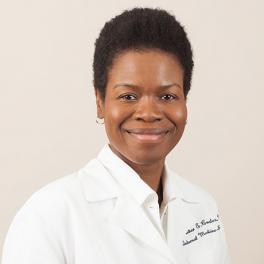 Dumisa Adams MD, FACOG
Specialties: Obstetrics & Gynecology
Board Certified: Obstetrics & Gynecology
Languages: English
---
General Info
Medical School/Degree: University of Toronto
Hospital Affiliations: Orange Regional Medical Center, Catskill Regional Medical Center, St. Anthony's Community Hospital.
Prior Experience: Womens Wellness Place, Syracuse, NY
Residency: Obstetrics & Gynecology, University of Toronto, Toronto, Canada
Internship: Obstetrics & Gynecology, University of Toronto, Toronto, Canada
Undergraduate: Queen's University
Clinical Interests:
I am interested in menopausal care and am currently increasing my surgical skills in robotic gynecologic surgery.
Year Joined: 2005
---
About Me
What made you want to become a health care provider or what is your earliest memory of wanting to be one?
My mother is a labor and delivery nurse and at 14 years old, I witnessed my first cesarean section. It was then that I knew I wanted to become a doctor.
What do you love most about your specialty? / Why did you choose your specialty?
What I love most about OB/GYN is that it has a lot of variety, including obstetrical care, gynecology, surgery and ultrasound; there are many different components.
How do you connect with your patients?
I believe everyone is a human being and we all share many types of common ground, so I try to find a common ground with each of my patients and something we can both relate to. I find that connection helps foster a good physician to patient relationship.
What are your interests outside of the office (hobbies, activities)?
I enjoy gardening a lot and also like sewing, cross stitch and crafts.
What is your advice for your patients?
Everybody should try and laugh at least once every day.
---