You are here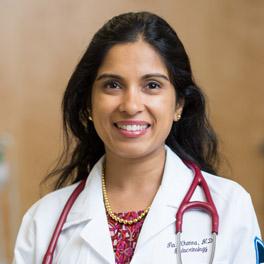 Ila Khanna MD
Specialties: Endocrinology
Board Certified: Internal Medicine, Endocrinology, Diabetes & Metabolism
Languages: English, Hindi
Overall Rating of Provider
---
General Info
Medical School/Degree: St. George's University
Hospital Affiliations: Garnet Health Medical Center (ORMC), St. Anthony Community
Residency: Internal Medicine, University of Connecticut, Farmington, CT
Internship: Internal Medicine, University of Connecticut, Farmington, CT
Fellowship: Endocrinology - East Carolina University Brody School of Medicine, Greenville, NC
Undergraduate: Boston University
Clinical Interests:
Diabetes, Thyroid, Osteoporosis and Disorders of Bone Metabolism, Calcium disorders, Adrenal and Pituitary disorders
Year Joined: 2014
---
About Me
What made you want to become a health care provider or what is your earliest memory of wanting to be one?
A desire to help people and make a difference in their lives.
What do you love most about your specialty? / Why did you choose your specialty?
I find Endocrinology to be a very fulfilling field as many disorders can be diagnosed and treated effectively. Also, it is a great field to be in currently with the epidemic of diabetes upon us. It is very satisfying to help these patients stay healthy and prevent complications. I enjoy educating patients about their disease process and believe that it can often improve outcomes.
How do you connect with your patients?
By listening to them and understanding how they feel about their disease, which may be a new diagnosis or something they have dealt with for many years. Encouraging them to ask questions and providing them with resources to manage their disease and make lifestyle changes.
What are your interests outside of the office (hobbies, activities)?
Traveling, Cooking/ Exploring new restaurants and cuisines, Working out
What is your advice for your patients?
Endocrine disorders like diabetes, hyperlipidemia and osteoporosis are often silent but should not be taken lightly as they can have serious long term consequences. I constantly try to encourage my patients to take charge of their health and well-being. I want to see them lead long and fulfilling lives.
---