You are here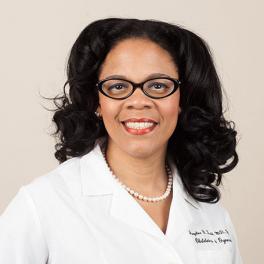 Jacquline Todd MD, FACOG
Specialties: Obstetrics & Gynecology
Board Certified: Obstetrics & Gynecology
Languages: English
Overall Rating of Provider
---
General Info
Medical School/Degree: University of Rochester School of Medicine & Dentistry
Hospital Affiliations: Garnet Health Medical Center (ORMC)
Prior Experience: Professional OB/GYN of Orange County, Middletown, NY
Residency: Obstetrics & Gynecology, Westchester Medical Center, Valhalla, NY
Internship: Obstetrics & Gynecology, Long Island College Hospital, Brooklyn, NY
Undergraduate: Syracuse University
Year Joined: 2009
---
About Me
What made you want to become a health care provider or what is your earliest memory of wanting to be one?
My earliest memory of wanting to become a doctor was when I was five years old. My grandmother asked me what it was that I wanted to do when I was a big girl. I told her I want to be a doctor. At that time the only experience I had was going to see the pediatrician and I knew then that I wanted to wear that little white coat and help people.
What do you love most about your specialty? / Why did you choose your specialty?
There are far too many things that I love about being a doctor but if I was forced to choose the most exhilarating aspect it would be assisting with bringing life into the world. Initially I chose to be an OBGYN because that is what my older brother, also a doctor, originally wanted to practice. When I went to medical school and actually was exposed to the different fields of medicine, I knew there was no other profession for me.
How do you connect with your patients?
I believe that a connection is made in the first few minutes. Direct eye contact and an open ear is what patients want. It does not matter how trivial a patient believes a question or problem to be I try to make them know that if it is worth asking me, then it is surely worth answering.
What are your interests outside of the office (hobbies, activities)?
My interests outside of CRHC is being a mom. That is how I spend the bulk of my time when I am not at work. I enjoy every waking moment with my three little ones. From our exercise sessions to quiet reading time. It does not matter as long as I spend it.
What is your advice for your patients?
I am here to try and help them with the information they provide and in order to continue managing a healthy environment their thoughts, ideas, and concerns are always most welcomed.
---