You are here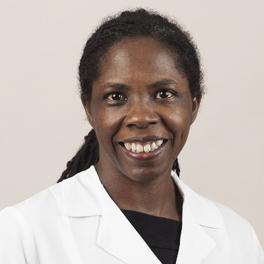 Overall Rating of Provider
---
General Info
Medical School/Degree: MD, Howard University College of Medicine, Washington, D.C.
Hospital Affiliations: Garnet Health Medical Center (ORMC) and Garnet Health Medical Center – Catskills (CRMC)
Prior Experience: Middletown Community Health Center, Inc., Middletown, NY
Residency: Pediatrics, SUNY Downstate Medical Center/Kings County Hospital, Brooklyn, NY
Internship: Pediatrics, Saint Vincent's Catholic Medical Centers of New York, New York, NY
Undergraduate: City University of New York, Brooklyn College
Clinical Interests:
Weight Management
Year Joined: 2012
---
About Me
What made you want to become a health care provider or what is your earliest memory of wanting to be one?
My father said that I started telling everyone I was going to be a pediatrician when I was four years old.
What do you love most about your specialty? / Why did you choose your specialty?
The kids are so resilient. Adults don't bounce back the same way. There's a satisfaction with working with children that's probably only equaled to Obstetricians and those that deliver them.
How do you connect with your patients?
I try to be honest and pleasant. Children can spot phonies.
What are your interests outside of the office (hobbies, activities)?
I love to read. I have a subscription to TIME and I read a lot of fiction.
What is your advice for your patients?
RELAX! Parents tend to worry about little things and miss the enjoyment of their children.
---