You are here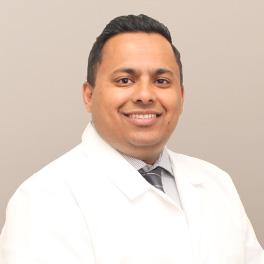 ---
General Info
Medical School/Degree: MD, Ross University School of Medicine, Portsmouth, Dominica
Hospital Affiliations: Nyack Hospital and Good Samaritan Hospital
Residency: Internal Medicine, Jacobi Medical Center, Albert Einstein College of Medicine, Bronx, NY
Internship: Internal Medicine, Jacobi Medical Center, Albert Einstein College of Medicine, Bronx, NY
Fellowship: Pulmonary and Critical Care Medicine, Elmhurst Hospital Center, Ichan School of Medicine, Mount Sinai, New York, NY
Undergraduate: BS, Bioengineering, University of Pennsylvania, Philadelphia, PA
Clinical Interests:
Asthma, Chronic Obstructive Pulmonary Lung Disease (COPD), Interstitial Lung Disease (ILD), Pleural Disease
Year Joined: 2018
---
About Me
What made you want to become a health care provider or what is your earliest memory of wanting to be one?
At an early age, I had a love for the field of science and unfortunately had a sick family member. Through that experience, I was able to witness first-hand the positive impact a physician can have on a patient's life. Being able to provide care and help people live their best life is what I strive for everyday with every patient.
What do you love most about your specialty? / Why did you choose your specialty?
I love the broad diagnostic challenges that pulmonary and critical care medicine present. The speciality of pulmonary medicine was imprinted onto me at an early age when assisting in the care of my family member. Helping patients breathe and thus live more comfortable is the most remarkable aspect of pulmonary medicine.
How do you connect with your patients?
Doctor means 'to teach' in Latin. I enjoy having two sided conversations with my patients so that both of us are speaking and listening to each other. With these interactions, I am able to teach my patient about their health conditions thus empowering them to make joint health care decisions with me as their guide.
What are your interests outside of the office (hobbies, activities)?
Traveling, spending time with my family, photography and technology
What is your advice for your patients?
Listen to your body, it tells you everything and of course stay healthy and don't smoke!
---