You are here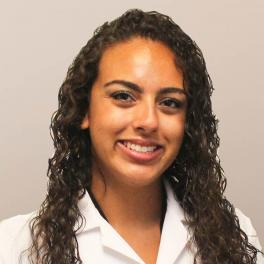 ---
General Info
Undergraduate: BS, Community Health, SUNY Cortland, Cortland, NY
Graduate: MS, Occupational Therapy, New York University, New York, NY
Clinical Interests:
Pain science
Ms. Couto is currently involved in a qualitative study regarding hand therapist perspectives of pain and its influence on practice patterns.
Year Joined: 2020
---
About Me
What made you want to become a health care provider or what is your earliest memory of wanting to be one?
I've always known I wanted to pursue a career in the medical field as I find joy in helping others. I discovered my passion for Occupational Therapy in college after observing in an outpatient hand facility. I loved the patient-therapist interaction as well as the skill involved with the specialty.
What do you love most about your specialty? / Why did you choose your specialty?
I love that a hand therapy specialty is unique to each and every individual person. The specialty poses challenges and encourages critical thinking daily which intrigues me. Additionally, I have always had a love for anatomy and I am able to hone my skills by submerging myself in the specialty.
How do you connect with your patients?
I am able to connect with my patients by using therapeutic use of self to empathize and determine their goals and concerns. Forming a patient-therapist relationship and interacting with my patients is crucial to providing optimal care.
What are your interests outside of the office (hobbies, activities)?
I love to travel to new destinations and experience different cultures. Additionally, I love to spend time with my family and am always looking for new ways to improve my health and wellness.
What is your advice for your patients?
Most of my patients always ask, "When will I get better?" I usually state that the healing process is unique to every individual and it is important to work together to optimize and better improve quality of life through meaningful occupations.
---