You are here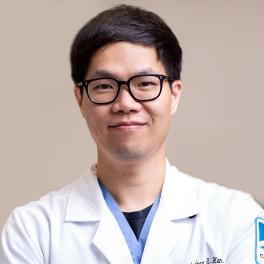 Christopher S. Han MD
Specialties: Urology
Board Certified: Urology
Languages: English, Korean
---
General Info
Medical School/Degree: MD - Rush Medical School, Chicago, IL
Hospital Affiliations: Montefiore St. Luke's Cornwall and Garnet Health Medical Center (ORMC)
Residency: Urology - Rutgers Robert Wood Johnson University Medical School, New Brunswick, NJ
Internship: General Surgery - Rutgers Robert Wood Johnson University Medical School, New Brunswick, NJ
Fellowship: Laparoscopic/Robotic Urologic Surgery - Washington University School of Medicine, St. Louis, MO
Clinical Interests:
Kidney Cancer, Prostate Cancer, Bladder Cancer, Minimally-invasive Upper Urinary Tract Reconstruction, Kidney/Ureteral Stone Diseases, General Urology
Year Joined: 2018
---
About Me
What made you want to become a health care provider or what is your earliest memory of wanting to be one?
Serendipty. My first summer job before college happened to be at an organization providing health care guidances for the underserved communities. I liked the job so much that I continued working as both part- and full-time employee for six more years. This opened up the possibility of becoming a health care provider for me. Exploring this new path led me to start hospital volunteer work which happened to be with a surgeon who quickly became my mentor and really shaped my desire to become a surgeon.
What do you love most about your specialty? / Why did you choose your specialty?
Urology is a unique surgical specialty where you can build a long-term relationship with your patients even after the surgery is done. I value this opportunity to interact with and help my patients both inside and outside of the operating room. Urology is also at the forefront of surgical innovations where improvements in the clinical outcomes and patient satisfactions are constantly being made with the advancements in surgical technologies and techniques. This keeps my mind engaged at all times.
How do you connect with your patients?
I have been a patient as well as a family member of a patient. I try to treat my patients and their family members exactly how I wish I would have been treated when I was in their shoes. This usually starts by creating an environment where they feel comfortable and not rushed.
What are your interests outside of the office (hobbies, activities)?
I enjoy playing intramural sports such as basketball and soccer. I also enjoy hiking with family and friends.
What is your advice for your patients?
Be an active advocate for your health and be prepared to ask questions.
---