You are here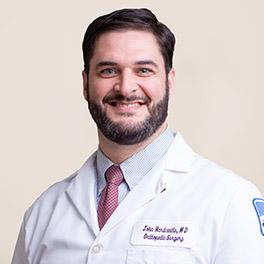 Overall Rating of Provider
---
General Info
Medical School/Degree: University of Maryland School of Medicine
Hospital Affiliations: St. Anthony Community Hospital and Garnet Health Medical Center (ORMC)
Residency: Orthopedic Surgery, Mount Sinai St. Luke's-Roosevelt Hospital, New York, NY
Fellowship: Adult Reconstructive Surgery, University of Pennsylvania Medical Center, Philadelphia, PA
Undergraduate: University of Virginia
Clinical Interests:
Hip replacement, Knee replacement, Minimally invasive surgery, hip and knee revision surgery.
Year Joined: 2015
---
About Me
What made you want to become a health care provider or what is your earliest memory of wanting to be one?
I enjoy the personal interactions with patients and the variety in day to day work. I decided to become an Orthopedic Surgeon in college, although I had always given it thought.
What do you love most about your specialty? / Why did you choose your specialty?
I chose Joint Replacement Surgery because of the relationship with human biomechanics and positive personal interactions, as well as the ability to effect significant positive changes in people's lives.
How do you connect with your patients?
Humor, respect, availability and punctuality.
What are your interests outside of the office (hobbies, activities)?
Golf, camping, skiing, fly fishing, tennis.
What is your advice for your patients?
You make the decision based on what's best for you. I provide the information for you to make an informed decision.
---