You are here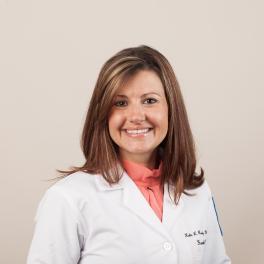 Katie Rudy-Tomczak MS, FNP-BC
Specialties: Oncology, Hematology
Board Certified: Family Nurse Practitioner
Languages: English
Overall Rating of Provider
---
General Info
Hospital Affiliations: Garnet Health Medical Center (ORMC)
Prior Experience: Morgan Stanley Children's Hospital of New York-Presbyterian Hospital
Undergraduate: University of Delaware, Newark, DE
Graduate: Dominican College, Orangeburg, NY
Clinical Interests:
Family Practice, Pediatrics, Oncology, Bone Marrow Transplant
Year Joined: 2015
---
About Me
What made you want to become a health care provider or what is your earliest memory of wanting to be one?
Growing up, I would visit my Aunt, an OB Nurse while she was working and I was fascinated by her work with mothers and babies. The movie, Patch Adams, then made me realize that I wanted to work with children with cancer in a hospital setting. The NP at my family's doctor's office introduced me to the NP role where I saw how compassionate, patient, kind, caring, and knowledgeable they are. I loved how she interacted with me and was so grateful for all that she taught me. I became an RN, then a family Nurse Practitioner.
What do you love most about your specialty? / Why did you choose your specialty?
I chose to become a family NP so that I could care for all ages and treat the family unit as a whole. I love working with children and adults alike. I have an extensive background in pediatrics, and also in oncology.
How do you connect with your patients?
I connect with my patients by treating them with the utmost respect, having patience, and by genuinely caring about their overall health and wellbeing.
What are your interests outside of the office (hobbies, activities)?
Outside of work, I love spending time with my husband, family and friends. I love working on home projects. I am an animal lover and adore my cats. I love spending time outdoors and also enjoy spending my time volunteering and fundraising, especially for local organizations and my own non-profit organization that I have set up in memory of my brother.
What is your advice for your patients?
I encourage my patients to live a happy and healthy life, and that health is more than just a physical condition.
---