You are here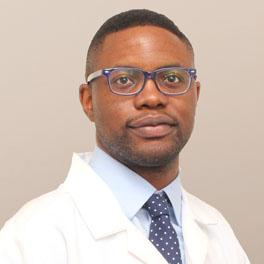 Opeyemi Daramola MD
Specialties: Otolaryngology
Board Certified: Otolaryngology-Head and Neck Surgery
Languages: English
---
General Info
Medical School/Degree: Doctor of Medicine - University of Minnesota Medical School, Minneapolis, MN
Hospital Affiliations: Nyack Hospital
Prior Experience: University Medical Center of Princeton in Plainsboro, NJ
Residency: Medical College of Wisconsin Affiliated Hospitals (MCW AH) - Milwaukee, WI
Internship: Medical College of Wisconsin Affiliated Hospitals (MCW AH) - Milwaukee, WI
Fellowship: Rhinology, Endoscopic Skull Base Surgery - Northwestern University Feinberg School of Medicine, Chicago, IL
Undergraduate: Bachelor of Science - Adams State University, Alamosa, CO
Clinical Interests:
General otolaryngology including adult and pediatric patients, rhinology, sinus and nasal disease, allergy, skullbase disease, laryngeal/voice issues, laryngology.
Year Joined: 2017
---
About Me
What made you want to become a health care provider or what is your earliest memory of wanting to be one?
I experienced some ear, nose and throat challenges that exposed me to the field as a child. My curiosity fostered my interest in medicine but I did not commit my future to being a physician until college, after moderate patient interaction and working with community primary care physicians.
What do you love most about your specialty? / Why did you choose your specialty?
I love Otolaryngology because it provides access to patients across all demographics with the opportunity to address acute and chronic issues. I am deeply in love with head and neck anatomy; I have special interest in sinonasal/skullbase anatomy and pathophysiology, as well. I am driven by the fact that there is much more to discover with respect to optimal treatment of inflammatory sinonasal diseases.
How do you connect with your patients?
Find a shared interest besides their pathology, avoid medical jargon, and seek to learn from them as you care for them.
What are your interests outside of the office (hobbies, activities)?
Painting abstract art, tennis (I am better at watching than playing), running, museums bring immeasurable happiness.
What is your advice for your patients?
Feel free to be open about your concerns - collaborative communication helps shared decision making and enhances your satisfaction.
---