You are here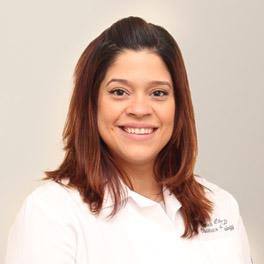 Overall Rating of Provider
---
General Info
Medical School/Degree: Ponce School of Medicine
Hospital Affiliations: Garnet Health Medical Center (ORMC) and St. Anthony Community Hospital
Residency: Obstetrics & Gynecology, Nassau University Medical Center, New York, NY
Undergraduate: University of Puerto Rico
Clinical Interests:
All areas of Obstetrics and Gynecology.
Year Joined: 2015
---
About Me
What made you want to become a health care provider or what is your earliest memory of wanting to be one?
I wanted to be a health care provider since I was a teenager. I used to volunteer at a nursing home and saw how important it was to this population, in particular, good access to medical care.
What do you love most about your specialty? / Why did you choose your specialty?
I love that in Obstetrics and Gynecology we can provide medical care as primary care physicians, as surgeons, and can be involved in all stages of life.
How do you connect with your patients?
I empathize and sympathize with my patients while maintaining objectivity in management of patient disease processes. I always try to establish good rapport with the patient.
What are your interests outside of the office (hobbies, activities)?
I like to sing and try out new cuisines.
What is your advice for your patients?
I like to empower them to take care of themselves and be knowledgeable regarding their medical care because knowledge is power.

---