You are here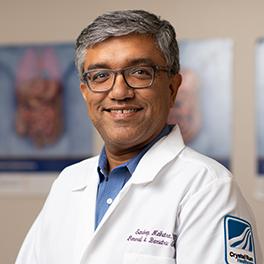 ---
General Info
Medical School/Degree: MD, Maulana Azad Medical College, New Delhi, India
Hospital Affiliations: Garnet Health Medical Center (ORMC)
Residency: Surgery - New York University Medical Center, New York, NY
Internship: Clinical Rotations - Lok Nayak Jai Prakash Narain Hospital, New Delhi, India
Fellowship: Minimally Invasive Surgery - Staten Island University Hospital, Staten Island, NY; Surgery Research - Memorial Sloan-Kettering Cancer Center, New York, NY and New York University Medical Center, New York, NY.
Clinical Interests:
Bariatric Surgery: Laparoscopic Sleeve Gastrectomy, Roux-En-Y Gastric Bypass, Mini Gastric Bypass, Gastric Banding; Advanced Laparoscopic Surgery for Acid Reflux, Hernia, Gallbladder, Solid Organ Diseases (Adrenal, Kidney, Spleen, Pancreas), Colorectal Surgery, Achalasia; General Surgery - Hemorrhoids (Piles), Anal Fissures, Anal Fistula, Lumps, Abscesses.
Year Joined: 2016
---
About Me
What made you want to become a health care provider or what is your earliest memory of wanting to be one?
From the ripe age of 10, I used to watch my grandfather do tonsillectomies in India. Patients got him gifts and were thankful to him. That inspired me to become a doctor.
What do you love most about your specialty? / Why did you choose your specialty?
Bariatric Surgery gives me great satisfaction because I add "years to life and life to years" for my patients.
How do you connect with your patients?
I give my patients the love and respect that I give to my family members. That is all it takes to break down barriers and connect with my patients.
What are your interests outside of the office (hobbies, activities)?
I love photography, hiking, and cooking Indian food. I'm a good cricketer! I also spend time on home interior design and farming.
What is your advice for your patients?
Good communication is the key to solving most problems. So, open up!
---