You are here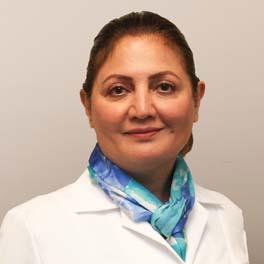 ---
General Info
Medical School/Degree: Rafsanjan University of Medical Sciences and Health Services, Iran
Residency: Family Medicine, Hoboken University Medical Center, Hoboken, NJ; Chief Resident, Family Medicine, Wyckoff Heights Medical Center, (WHMC) New York Medical College, New York, NY
Clinical Interests:
Geriatrics, Pediatrics and Adolescents
Year Joined: 2022
---
About Me
What made you want to become a health care provider or what is your earliest memory of wanting to be one?
As far back as I can remember, when I was asked what I would like to become in the future, my prompt response was always "a doctor". I always found myself thinking about the intricacies of the body as well as the behavioral manners and the mysteries lying within.
What do you love most about your specialty? / Why did you choose your specialty?
I love having long-term and trusting relationships with my patients regardless of age.
How do you connect with your patients?
I connect with my patients by understanding their personality, their emotions, and their challenges in life, whether they be behavioral or cultural. I care and connect with them in a compassionate way.
What are your interests outside of the office (hobbies, activities)?
Spending time with my family, going to parties, traveling, camping, painting, and swimming.
What is your advice for your patients?
Moderation is the key to good health.
---