You are here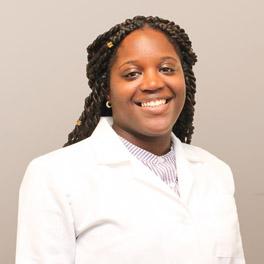 Shy'na Foster FNP
Specialties: Hospital Medicine
Board Certified: Family Nurse Practitioner
Languages: English
---
General Info
Hospital Affiliations: Montefiore St. Luke's Cornwall Hospital
Undergraduate: BS Nursing - Russell Sage College, Troy, NY
Graduate: MS Nursing - Sacred Heart University, Fairfield, CT
Year Joined: 2019
---
About Me
What made you want to become a health care provider or what is your earliest memory of wanting to be one?
As a young child I experienced the death of my mother, during this time her health care providers became a huge part of the grieving process for our family. It was at this time that I realized I wanted to be a pillar for others experiencing loss, wether it be death or physical decline.
What do you love most about your specialty? / Why did you choose your specialty?
The most rewarding part of my specialty is that I am able to care for people throughout multiple stages of their lives. I believe for the provider, this creates a necessary balance between treatment in which optimizes health and palliative care. I chose this specialty because of the diversity in the patient population.
How do you connect with your patients?
Connecting with my patients is the foundation of my clinical practice. I am able to connect to my patients through being personable and relatable.
What are your interests outside of the office (hobbies, activities)?
I have 3 small children, so most of my free time is spent with them. Although, I do enjoy Broadway plays, finding new places to eat, and of course beach vacations.
What is your advice for your patients?
I often tell my patients, "It is up to you to make the best of your situation, with a little help of course."
---