You are here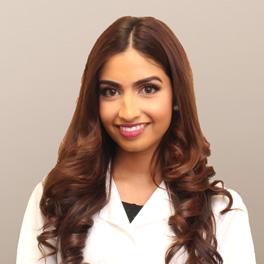 Zehra Rahman PA-C
Specialties: Dermatology
Board Certified: Physician Assistant
Languages: English & Urdu
---
General Info
Undergraduate: BS - Virginia Tech, Blacksburg, VA
Graduate: MS Physician Assistant Studies - Jefferson College of Health Sciences, Roanoke, VA
Clinical Interests:
Preventative medicine, acne, rosacea, skin cancer diagnosis & treatment
Year Joined: 2019
---
About Me
What made you want to become a health care provider or what is your earliest memory of wanting to be one?
I always knew I wanted to pursue a career in a human services field and have been passionate about the sciences growing up. Medicine specifically offers me the ability to create trusting, long-lasting relationships with individuals in my community, while also working towards shedding light on blind spots within the ever­changing healthcare system to ensure no patient unknowingly falls through the cracks.
What do you love most about your specialty? / Why did you choose your specialty?
Dermatology allows me to see patients of all ages with illnesses that may be affecting a variety of physical and mental states. Also, it allows me to practice preventative medicine and is a very patient-centered specialty. I enjoy teaching and encouraging patients be advocates for their own wellness, which are the foundation of this specialty.
How do you connect with your patients?
I connect with my patients by growing alongside the individuals I am healing while trying to affect real change in my patients' lives every day.
What are your interests outside of the office (hobbies, activities)?
I enjoy hiking, traveling, and a good cup of coffee!
What is your advice for your patients?
Help me help you! I am here to improve your quality of life and am so excited to work with you to practice preventative medicine or create a treatment plan that will improve your health.
---