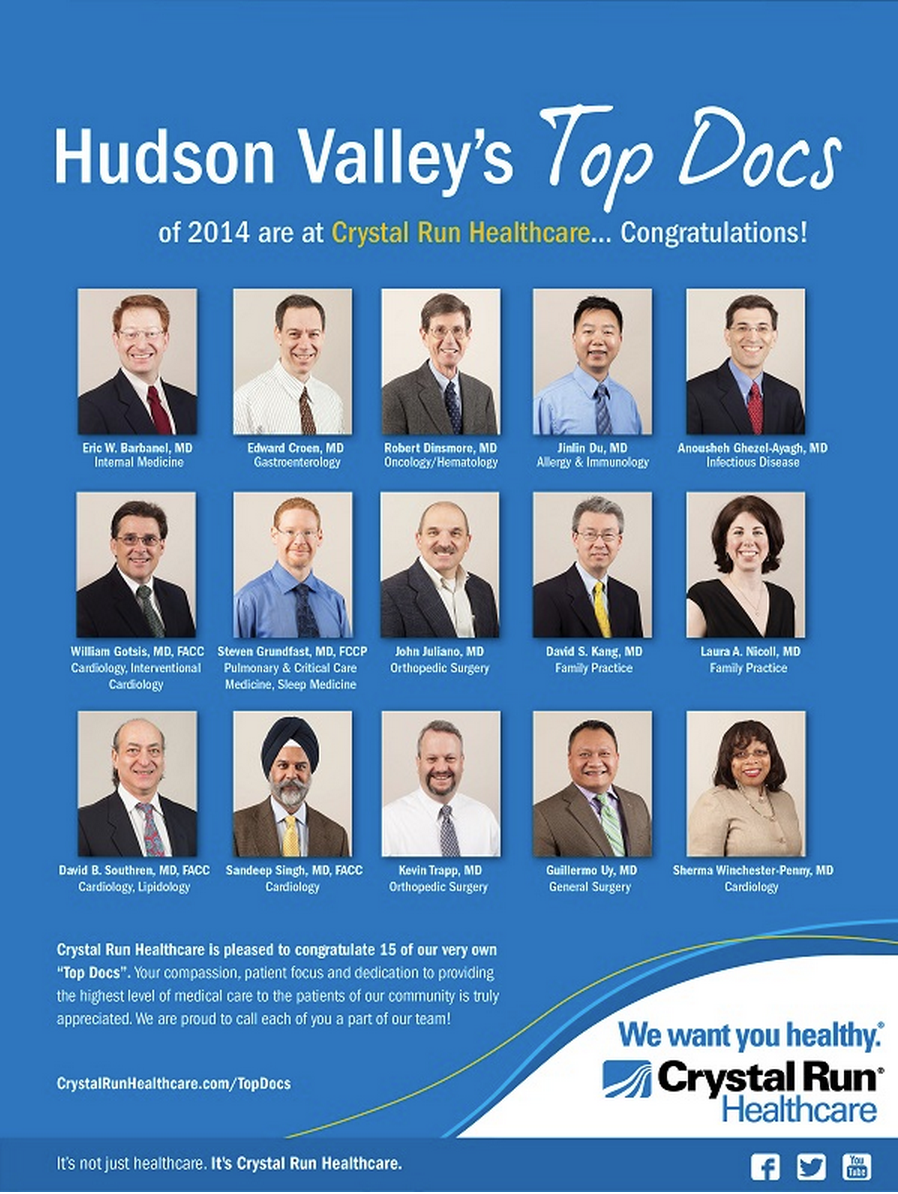 Hudson Valley Magazine recently published Castle Connolly's list of "Top Docs" of the Hudson Valley where fifteen of Crystal Run Healthcare's physicians were recognized as the area's best doctors. Castle Connolly is a healthcare research and information firm who surveyed physicians, leading hospital administrators, and other administrators to identify highly skilled, exceptional doctors that comprise the area's best doctors.
Congratulations to Crystal Run Healthcare physicians:
Eric. W. Barbanel, MD
Internal Medicine
Edward Croen, MD
Gastroenterology
Robert Dinsmore, MD
Oncology/Hematology
Jinlin Du, MD
Allergy & Immunology
Anousheh Ghezel-Ayagh, MD
Infectious Disease
William Gotsis, MD FACC
Cardiology, Interventional Cardiology
Steven Grundfast, MD FCCP
Pulmonary & Critical Care Medicine, Sleep Medicine
John Juliano, MD
Orthopedic Surgery
David S. Kang, MD
Family Practice
Laura A. Nicoll, MD
Family Practice
David B. Southren, MD, FACC
Cardiology, Lipidology
Sandeep Singh, MD, FACC
Cardiology
Kevin Trapp, MD
Orthopedic Surgery
Guillermo Uy, MD
General Surgery
Sherma Winchester-Penny, MD
Cardiology
Crystal Run Healthcare is pleased to congratulate fifteen of our very own "Top Docs". Your compassion, patient focus and dedication to providing the highest level of medical care to the patients of our community is truly appreciated. We are proud to call each of you a part of our team!