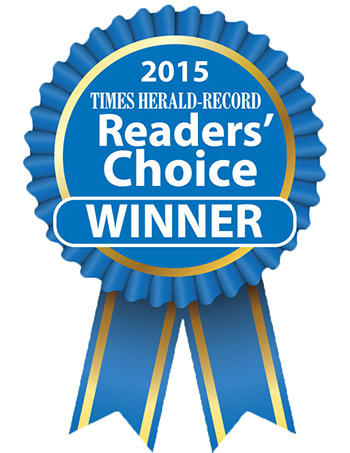 FOR IMMEDIATE RELEASE
For more information, contact: Mark Trocino | 845.615.6832 | mailto:marketing@crystalrunhealthcare.com
CRYSTAL RUN HEALTHCARE AGAIN VOTED BEST FAMILY PRACTICE AND BEST HEARING AID CENTER IN TIMES HERALD-RECORD'S READERS' CHOICE AWARDS
Middletown, N.Y. – July 27, 2015 – Crystal Run Healthcare has been voted the "Best Family Practice" and "Best Hearing Aid Center" in the Times Herald-Record's Readers' Choice Awards for 2015. This marks the 4th consecutive year Crystal Run Healthcare has won top honors in these two categories. In addition to being recognized as the best in two categories, Crystal Run Healthcare was also voted for the following awards:
Best Cosmetic Surgeon/Dr. Sandra Sacks – 2nd Place
Best Dermatologist/Dr. Valerie Gershenhorn – 3rd Place
Best Physical Therapist – 3rd Place
The Readers' Choice poll included hundreds of local businesses in nearly 200 categories that readers voted on. More than 100,000 votes were made and Crystal Run Healthcare took top honors in the Health, Beauty and Wellness Services group for "Best Family Practice" and "Best Hearing Aid Center". Crystal Run will be honored in the July 29th special edition of the Times Herald-Record, along with this year's other winners.
"On behalf of Crystal Run Healthcare, I'd like to thank the readers of The Times Herald-Record for voting us the Best Family Practice and Best Hearing Aid Center. We work tirelessly to ensure that we are offering the highest level of care in a convenient, patient focused environment. Our patients have choices with their healthcare and we are happy that they continue to choose Crystal Run Healthcare as their favorite," said Michelle A. Koury, MD, Chief Operating Officer at Crystal Run Healthcare.
Crystal Run Healthcare has a strong commitment to primary care (Family Practice, Internal Medicine, Obstetrics & Gynecology, Pediatrics and Geriatrics) and remains at the cutting edge of healthcare delivery. Crystal Run Healthcare offers same-day primary care appointments in many of its office locations to improve patient access to Crystal Run's high quality care.
In addition to Crystal Run's commitment to primary care, the multi-specialty group medical practice includes over 40 medical and surgical specialties, more than 300 providers, and 20+ locations throughout Orange, Sullivan, and Rockland counties, as well as New York City and Northvale, NJ.
About Crystal Run Healthcare: Crystal Run Healthcare is a premier multispecialty group practice with over 350 providers in over 40 medical specialties and more than 30 practice locations in the Hudson Valley and lower Catskill region. Crystal Run has a strong commitment to primary care, employing an outstanding group of physicians in the specialties of Internal Medicine, Obstetrics/Gynecology, Family Practice, Geriatrics and Pediatrics. The practice also includes unsurpassed sub-specialists in a wide variety of medical and surgical specialties and sub-specialties. In addition to accreditation by The Joint Commission, Crystal Run is designated by the National Committee for Quality Assurance (NCQA) as a Level 3 Patient Centered-Medical Home. The practice is among the first 27 health care organizations in the nation to participate as an Accountable Care Organization (ACO) in the Medicare Shared Savings Program (MSSP). Crystal Run Healthcare achieved NCQA Level 2 ACO Accreditation in 2012, becoming the first health care organization to be so designated in New York State and among the first six in the United States. Leveraging its ACO experience, Crystal Run has entered into value-based care/shared savings arrangements with numerous commercial payers and a Medicaid Managed Care organization. As a result, contracts which reward Crystal Run for health outcomes now cover approximately 50 percent of the group's attributed primary care patients. Crystal Run has demonstrated its ability to manage population health, improving quality while simultaneously lowering per capita cost for the patients it serves. Crystal Run Healthcare and Mount Sinai Health System have recently announced the established the Mount Sinai-Crystal Run Alliance for Healthcare Transformation, a groundbreaking partnership in which the participants will share and implement best practices, invest and share financial and intellectual resources, strengthen provider networks, and employ innovative approaches to the creation of health care value—all in furtherance of the "Triple Aim" of Better Care, Better Health, and Lower Cost. For more information about Crystal Run Healthcare visit www.crystalrunhealthcare.com, and follow us on Twitter, LinkedIn and Facebook or call 845.703.6999.
# # #